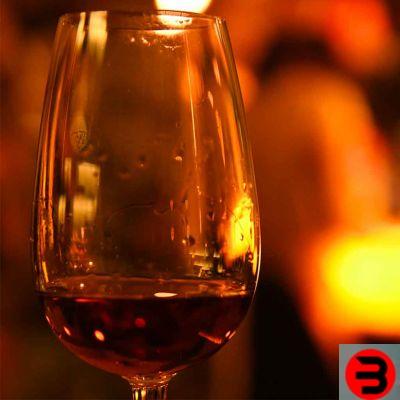 Ranking of the best rums
We cannot hide the fact that rum has a very special charm. It is one of the most popular drinks in the world, this can be tasted alone "especially when we talk about"good quality rum", At other times mixed in a cocktail. Rum is a type of alcoholic drink which is obtained thanks to the distillation of sugar cane juice.
Rum has very distant origins and, above all, the best known ones are to be connected to Latin America. Not surprisingly, rum is very often known by another term: Ron. The drink in question, regardless of the name it takes, has a particular taste. It has a flavor that most people have in common, from kids to adults. With a sweet and refined taste, it manages to create strong sensations and great memories.
Of course, there is not just one type of rum, but there are several on the market. They can be divided according to color, origin, flavor and level of aging. For example, rums that have a very dark color are, in general, spirits with a sweeter taste that are also characterized by a higher quality.
What is the best rum?
There are many rums, which can be classified by color, flavor, aging or origin. Starting from the varieties, there are two different types of rum: industrial rum and agricultural rum. The main difference lies in the production method. The industrial rum is born thanks to the distillation of molasses, while the agricultural one, more valuable, comes from the pure juice of sugar cane.
In the Caribbean, the custom of using sugarcane juice is maintained without further manipulation. The rums that come from the Spanish colonies or from the English colonies of the Caribbean are made using sugar cane molasses. Since molasses is a by-product given by the refining of sugar, the rum obtained is called industrial. This type of rum is aged in barrels, with the same technique as sherry. On the palate, they are softer, younger, liqueur, sweet and lovable. Let's try to find out together the best rums, pointing our magnifying glass at this selection.
Ron Zacapa 23
This is a rum typical of Guatemala, which sees the birth from the union of several aged rums. These were, in turn, in barrels used for whiskey and sherry. Ron Zacapa 23 has a sweet flavor with a hint of spice due to notes of dark cherry chocolate, dried fruit and sweet oak. This type of rum is recommended straight or with ice. It is considered one of the best rums to the point of being also perfect as a gift for special and important occasions.

Discover the best price
Rhum Diplomatic, Exclusive Reserve
Of Venezuelan origin, its region is traditionally linked to an important sugar cane cultivation. For the distillation phase of Diplomatic Rum, three types of alembic are used. It is a metal instrument that tells the tradition of the distillery. Once this phase is completed, the rum is aged for about twelve years, in particular oak barrels. It is a very dark colored rum and with a fruity taste, but also a little bitter given the traces of cinnamon, burnt sugar, orange and a pinch of nutmeg.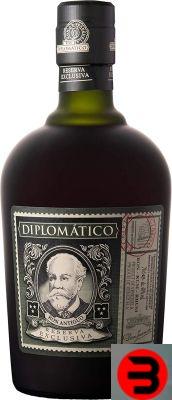 Discover the best price
Matusalem Rum Gran Riserva
In third place, among the best rums, we find a distillate aged about fifteen years in oak barrels. It gives off a scent of vanilla, wood with a sweet caramel aftertaste. It is considered one of the best products on the market. The Matusalem Rum Grand Reserve it is ideal to be tasted neat or with ice, but it also finds its place in the creation of excellent cocktails.

Discover the best price
The Kraken Black Spiced Rum
Already from the name you can well understand how the color of this one rum is very dark, almost black. It's a very spicy distillate that has Caribbean origins. It too appears to have aged over a period of time that can range from twelve to fourteen months. For its composition, about 13 different spices are used, among which we find the strong taste of ginger and cloves.

Discover the best price
Rum Don Papa
Don Papa rum, is a Filipino rum obtained from the processing of sugar cane and aged 7 years in oak barrels. A special product, for connoisseurs. A rum, amber, with a sweet aroma of vanilla and exotic fruit. A quality product with a pleasant flavor, not aggressive but definitely decisive. It can be tasted with chocolate and with a glass of still water with ice to cleanse the palate, thus allowing the best tasting. It is sold in a 70 cl 40% vol. Bottle.

Discover the best price
Pampero Rum Anniversary
Pampero is a widely used and commercial rum, but this meaning of "Aniversario" manages to gain a special place in the ranking of the most requested and sold rums in the market. Rum has a very dark color and is distilled about three times. It has a fruity taste with traces of wood, vanilla, sherry and cinnamon. Il Pampero Rum Anniversary, in fact, it is suitable for those who prefer very aromatic rums, but at the same time sweet.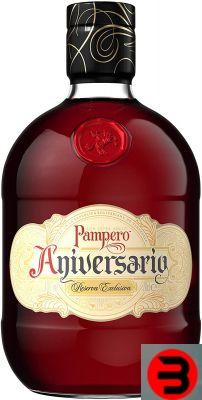 Discover the best price
Santa Teresa 1976 solera rum
Most of the liquor companies are owned by large multinationals but there Santa Teresa is in the current market, a rare pearl, in fact we are still talking about a small independent family-run company. For the production of Santa Teresa rum, the "Solera" technique is used. This Rum Venezuelan DOC it is produced starting from selected raw materials of local origin subjected to strict controls. It is called a Blend Rum aging between 4 and 35 years. Main characteristics are: A fruity aroma with notes of honey and chocolate, intense color with amber reflections. It is sold in a 70 cl 40% vol. Bottle.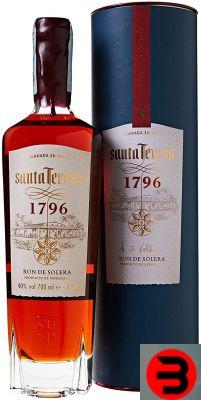 Discover the best price
Rum Agricolo Clément
A rum from Martinique that ages for a minimum of four years in virgin Limousin barriques. This prestigious agricultural rum, obtained directly from sugar cane juice, it has a bright mahogany color, the aroma of roasted cocoa and an incredible softness. The aromas released by the agricultural rum Clemént, are offered to the palate in a soft and dry way. It has a taste of warm caramel, exotic spices and aromas of dried fruit, with hints of coconut and banana. It is sold in a 70 cl 40% vol. Bottle.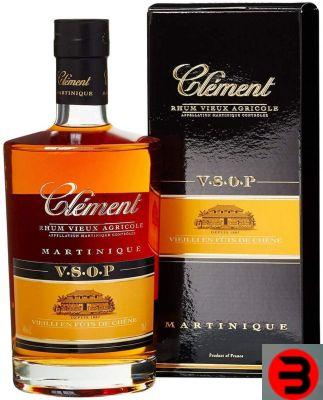 Discover the best price
Zacapa Centenario XO Solera
Il rum Zacapa Centenario XO Solera, contains a mix of rums subjected to an extra phase of aging in oak barrels previously containing cognac. This rum is made in Guatemala and is one of the best rums in the market. A agricultural rum left to mature on the Quetzaltenango plateaus, it develops its complex flavor and character at 2.300 m above sea level. On this pagian, you will find the complete sheet of this fantastic product.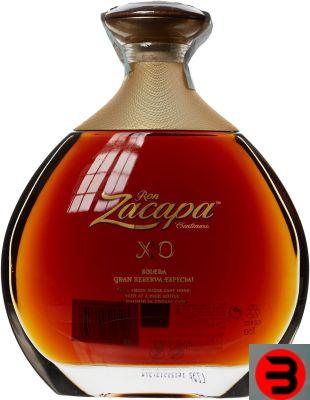 Discover the best price
Best rums by type and color
The best rums by type, color, origin, everything you want to know about the best rums in the world can be found on our site Migliorirum.com.
Comparative table characteristics of the best rums by type, color, origin, use; value for money.
Best rums by type of rum: commercial, agricultural, Solera method, vintage
best commercial or industrial rums;
best agricultural rum.
best rums with the Solera method;
best vintage rum (single cask)
Best white or dark rums.
best white rum
best dark rum
Best rums by country of origin: Cubans, Jamaicans, Venezuelans, from Guatemala
best Cuban rums;
best Jamaican rums;
best Venezuelan rums;
best rums of Guatemala;
Best rums for use: cocktails, tasting
best rums for cocktails;
best tasting rums.
Best rum quality price;
best rum quality price
best spiced rums for price and quality
Comparative table of the characteristics of the best rums by type, color, origin, use, value for money.
Best rums by type of rum: commercial, agricultural, solera method and vintage
The rum world is so vast, that there can be several better rums and it is impossible to establish with certainty which is the best rum in the world, but rather to establish which rums can be the best in their respective categories. Furthermore, in this ranking of the best rums we have chosen to narrow the search to distillastes that are easily available and at a not too high price.
The history of rum is linked to Caribbean rum, that is to the islands and the countries conquered by Spain, France and England in the 500s, where sugar cane was cultivated. The first great distinction derives from what rum is distilled, which can be obtained from sugar cane molasses or from the juice of the cane itself: the best rums derived from molasses are usually defined as industrial and commercial, while rums from the juice distillation are called agricultural.
It is a distinction that is also linked to the type of distillation plants, because the best commercial molasses rums are usually distilled with a continuous type plant, which creates light-tasting rums, while agricultural ones are usually distilled with discontinuous plants that maintain the molecules that give it its characteristic olfactory and palate richness. Among the best commercial molasses rums we can definitely choose the Rum Methuselah Great Reserve 23 Years, a rum of Cuban origin, but currently produced in the Dominican Republic, which despite aging, maintains its characteristic drinkability.
Among the best agricultural rums we have chosen the rum J. Bally 12 anni fruit of one of the oldest agricultural rum distilleries in Martinique. Rum can then be the result of mixing several vintages or the result of a single vintage. The technique of blending multiple vintages is the so-called Solera method used in many Spanish-speaking Caribbean countries. This is the case with the Rum Zacapa Centenario 23 Solera which is the result of blending barrels ranging from 6 to 23 years of aging.
In the case of rum resulting from only one vintage, we will speak of single cask rum, or non-blended rum similarly to what is done for whiskey, or - following the French term - rum millesimé. We have chosen one of the best rums from the inventor of this method, J, Bally and his rum J.Bally 2002 vintage which at an affordable price will make you savor the history of Martinique rum.
Best white and dark rum
Another big distinction in the world of the best rums is between rum defined clear, white and rum defined dark. The chromatic difference is almost always understood as a difference in quality and aging, to the advantage of the dark rum which is usually considered to be of superior quality. In reality, there are also aged white rums, which can be bleached with a charcoal treatment, or white rums aged in stainless steel barrels.
As the best white rum, our choice falls on the distillery that invented it, namely Bacardi and its classic Bacardi Carta Blanca, probably the most used rum in the world for cocktails. It is a light rum of the Cuban school, although it is currently produced in Puerto Rico. The invention of white rum was thanks to Facundo Bacardi which revolutionized the history of Cuban rum and introduced the methodologies that underlie the best commercial rums in the world.
Finding the best dark ron is a much more ardent undertaking because almost all best rums in the world they have colors that tend to amber or even mahogany: in fact the aging itself in wooden barrels makes the distillate naturally darker. There are basically dark rums from three different schools: dark rums from the Spanish school, or French or even English. Here we have chosen one - but there are hundreds of bottles equally worthy of mention - for its beautiful amber color and also for the elegant bottle: it is the The Barceló Imperial Rum which is a ron of the great Spanish tradition and therefore with a very balanced, deep flavor, which is characterized by great sweetness. For other dark rums with heavier notes it is better to turn to rum of the French school, or the classic rum of the English school, that is, rum from Jamaica.
Best rums by origin: Cuban, Jamaican, Venezuelan and Guatemala
There are countries with which i are instinctively associated best rums in the world: the first association is with the rum of Cuba by many mistakenly considered the country that created the rum. In reality, Cuba, being a Spanish colony, experienced the development of rum production much later than the French and English colonies, due to the protectionist regime wanted by Madrid, to protect the production of Spanish Sherry and wine. It was only at the turn of the 800th and 900th centuries that what would become the world's best-known brands of rum were born, such as Bacardi and Havana Club.
Just to the rums of Havana club you can turn to taste the best Cuban ron, still produced on the island and distributed in the rest of the world thanks to a joint venture with Pernod Ricard. In particular, we would like to recommend the Seleccio'n De Maestros, with a dark amber color and an alcohol content of 45%, the flagship product of one of the most famous rum brands also in Italy. Those who love more intense emotions and stronger olfactory notes and stronger palate, must turn to Jamaican rum, a rum that owes its success to its expressiveness and high alcohol content. A rum that we would like to recommend you as one of the best Jamaican rums is the Appleton Estate Jamaican Rum Aged 21 years obtained from a blend of rum aged at least 21 years, which while maintaining the spirit of a Jiamican rum is very drinkable.
The best rums of Venezuela have an additional feature compared to the Cuban and Jamaican ones: they are certified by a DOC which regulates their production. Introduced in 2003 the DOC establishes that for the production of the best rum del venezuela it is necessary to use only Venezuelan sugar cane, to age the distillate for a minimum of two years in American white oak barrels, finally that the distillate must have an alcohol content of not less than 40 volumetric degrees.
Among the many quality rums of Venezuela, we would like to recommend the rum Santa Teresa 1796 Solera aged on average for 25 years, of marked drinkability and great elegance. Finally, a country that for some years has been considered among the best rum producers is Guatemala, which boasts prestigious distilleries such as Zacapa and Botran. Here, too, producers have teamed up to regulate the country's rum, which boasts one of the best sugar cane in the world. Among all the magnificent products of this land, we point out one of the most famous rums of the Zacapa distillery: it is the Zacapa Rum Centenario XO Solera produced with a blend of rum aged between 6 and 25 years of aging, the result of the distillation of pure cane juice
Best rums for use: for cocktails and for tasting
Another necessary distinction that needs to be made between rums is that between best cocktail rums and best tasting rums. The rum used in the best cocktails is usually characterized by a light and balanced flavor, which allows it to be paired with fruit, juices or other liqueurs. An approach to the palate that is too accentuated would tend to overwhelm the other elements, removing balance from the cocktail, especially the more delicate ones such as Daiquiri.
The school he addresses us for the best cocktail rums is the Cuban one, universally known for the balance and lightness of its spirits. If for white rum we have already told you about Bacardi Carta Bianca rum, for dark rums the best rum, also for its low cost, is the Havana Club in its two versions of aging of 3 or 7 years. Ideal especially for fresh and easy cocktails like a classic Cuba Libre Havana Cola.
With the development of the rum market, rums defined by meditation are also becoming established, that is, to be drunk neat or with ice in moments of relaxation. The best meditation rums are usually characterized by olfactory richness on the palate, with more complex notes, which can be more appreciated by drinking the distillate in purity. Among the many proposals that we could make for you as the best tasting rum, Il Reserve room special El Dorado 21 Years, stands out as an excellent expression of the distillery of rum demerara in Guyana, active since 1770, a real legend in the world of rum. Intense dark color, the nose has complex notes of caramel, honey and spices, on the palate it is full-bodied with notes always caramel accompanied by wood, ripe fruit and coffee.
Best rum quality price
The rum on the market has very variable prices that often do not have a relationship with the real quality of the distillate. In fact, there are many rums with an uncertain age or colored with caramel to pretend an age of aging that they do not actually have, others the result of mysterious blends of unknown rums, still others aged in Europe and passed off as Caribbean.
We advise you to turn to solid brands that have made the history of rum, such as those mentioned in this article, which can guarantee you the best value for money and above all the credibility and originality of the distillate. To finish this excursus on the best rums, we have chosen to report two rums with the best value for money reported by users on the web, even if in these cases they are two recently founded rums.
The first is very famous in Italy and has had an unexpected success: it is rum Don Papa 7 years , which comes from the Philippines, a land where the Spaniards imported the traditional Sherry distillation methods. We also want to point out another rum with an excellent quality / price ratio, in this case it is a spiced rum coming from Trinidad, let's talk about the Kraken Room, a rum that owes part of its success to the characteristic bottle and its particular flavor.