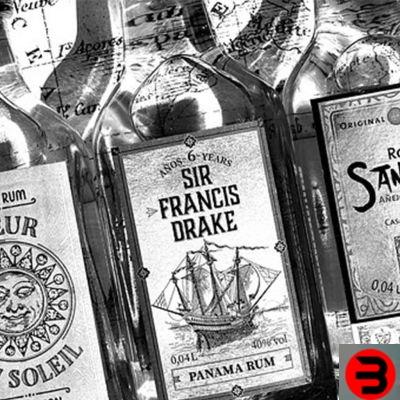 White Rum: what are we talking about?
Il white rum it is a colorless rum, that is, as it appears at the end of the distillation phase. To be defined white rum its appearance must be transparent or only slightly opaque. Since this is a product that has not yet aged, the white distillate of unaged sugar cane juice or molasses cannot yet be properly called "white rum", But sugar cane brandy.
To be defined white rum the distillate must necessarily pass a period of aging, which may not alter its color, as in the case of white rums aged in stainless steel tanks, or make it darker, when aging takes place in wooden barrels. It will therefore be necessary in the latter case to filter the rum in order to bring it back to the state of white rum.
Usually the type of white rums it is mistakenly considered a category of minor rums, as they are less aromatic due to their poor aging, but there are distillates that dispel this cliché, such as some white rums of controlled designation of origin (AOC) from Martinique, aged for a long time in stainless steel, or rum aged in wooden barrels and then filtered, such as the Bacardi White Paper, or rum Planas diplomat which boasts an aging in wooden barrels of even six years. In the common imagination, white rum is still associated with the world of cocktails, many of which have been conceived with young white rums, ideal for pairing with ice, juices, syrups and sugar.
Light rum
With the term light rum, we always mean the same sugar cane distillate also known as ra bianco. The Caribbean islands are considered by all to be the major producer of this distillate, although today it is produced in many parts of the world.
White rum it is also known as "light" rum. Light in body and color. This rum, too, is produced from sugar cane or molasses juice, but is characterized by a very short distillation time. Unlike the dark rums, which are aged in oak barrels, the White rum is sweetened in new untreated oak barrels or stainless steel tanks for one year. Precisely for this type of aging, the distillate does not assimilate any color and remains clear.
Best Price White Rum
White Bacardi Room
When we ask for a white rum for cocktails, the answer can only be Bacardi Carta Bianca. It is the most famous white rum in the world, precisely because many cocktails have been created using it, among them the Mojito, il Daiquiri and the one that bears the name of the distillery, namely the Bacardi Cocktail. When Don Facundo Bacarsi decided to revolutionize the world of rum and to create a distillate capable of distinguishing itself from those on the market, he decided that the rum had to have a different color from the amber that distinguishes the other rums, so it had to be a white rum, transparent.
On the other hand, to make the rum taste lighter, less aggressive, it was necessary to age it for at least a year in oak barrels and therefore it needed to bring it back to its original color. For this he experimented with filtration with a charcoal obtained from the combination of tropical woods and coconut shells. Even today, this filtration is one of the secrets that led this light rum of Cuban origin to be the best-selling white rum in the world and especially for those coming from the world of cocktails and mixology, the Bacardi white is always an inseparable companion.
Cuban white rum
Cuban white rum it is usually associated with a cheap and not particularly aromatic rum, to be used in the composition of rum cocktails. Although many mean by Cuban white rum, a rum produced by Bacardi or Havana Club, if we want to talk about a 100% Cuban white rum we can only refer to Havana Club, which continues to produce its Havana club 3 anos white again. in Cuba, while Bacardi, since the revolution of Fidel Castro has left the island by moving the factories to Puerto Rico.
However, Bacardi remains the Cuban white rum par excellence, having been conceived and developed in Santiago de Cuba, that is where Don Facundo Bacardi, originally from Spain, decided to found the distillery of the same name. Experiments began in Cuba in 1862 which lasted for ten years in order to create a Cuban white rum with an unmistakable flavor: in fact, in addition to filtration to obtain an aged white rum, among the secrets of Bacardi, there are a strain of selected yeasts in Cuba (levadura Bacardi) perfect for creating the typical aroma of its rum and two-step distillation to create a rum blend. With this series of innovations introduced at the end of the 800th century, Bacardi rum became the leader of what is known in the world as Cuban white rum.
White rums: Jamaica's school of white rums
Jamaican white rums are among the white rums for the preparation of cocktails best known in the Anglo-Saxon world. They are rums richer in "esters" than for example white rums from other countries and therefore have a more decisive flavor, ideal for cocktails in which the rum component is predominant. The success of these white rums often "Overproof" (with an alcohol content above 50 °) is quite recent, since until a few years ago white rums were drunk only by the island workers, often diluted with water (never with ice) or even with milk. These are white rums defined as "heavy" because they are difficult to drink straight, precisely because of the aromatic richness that derives from the type of distillation and the long fermentations, which take place for many days.
In many cases these overproof white rums have olfactory and palate notes that may surprise those accustomed to white rums of the Spanish school, such as rum from Cuba, of Venezuela, and many others Caribbean rum. In fact, it is not unusual during the tasting of Jamaican white rums to perceive brackish hints on the nose and palate, or notes related to capers, onions, green olives, smoke, gum, in short, tastes, smells and flavors completely unusual for those who have never what to do with this type of white rum. Brands such as Wray & Nephew, Rum Fire and Rum-Bar, are little known to most, but they are white rums that deserve to be tasted, albeit with caution, given the alcohol content around 60 °: simpler in a tiki cocktail like the Mai Tai.
Agricultural white rum
The agricultural white rum from Martinique is what redefined the concept of white rum in the rum world. In this case it is a rum made from sugar cane juice and not from molasses (which is a by-product of sugar processing) and therefore a distillate that already originally has superior characteristics. In the distillation of agricultural white rum from Martinique which is subject to the AOC (French Controlled Designation of Origin) specification, the selected sugar canes must come from a delimited area of ​​only 23 municipalities and their yield per hectare is also limited. Other limits are placed on the amount of irrigation, the use of herbicides and the harvest period.
As for the fresh sugar cane juice that will give rise to the white agricultural rum of Martinique, the processing of the cane is regulated, which can only be crushed or pressed without the addition of molasses or cane syrup. Other rules concern the methods of fermentation, distillation, the type of distillation column, the alcoholic strength. In this case we are dealing with a "certified" agricultural white rum, a white rum of which it is possible to trace the entire production path, which goes from the cultivation of sugar cane to the aging of the distillate to be carried out exclusively on the island to be defined "White agricultural rum from Martinique".
At the end of the distillation, the rums with the label of controlled origin "White agricultural rum from Martinique"Can be part of two categories: white agricultural rums from Martinique aged in wood will be called those that for a maximum of three months will be housed in oak or oak barrels while those aged for a minimum of three months in stainless steel will simply be agricultural rums whites of Martinique. In the case of these white agricultural rums aged in stainless steel, the duration of refinement can reach several years.
Best Price White Rum
White rum based cocktail
White rum is the most widely used type of rum in the world in cocktails and their use is recalled by the International Association of Bartenders (IBA) in official recipes. In some cases, reference is also made to specific types of white rum for cocktails, such as Cuban white rum, Bacardi white rum, or simply a "light rum".
Below is the list of IBA cocktails that require the use of white rum:
Bacardi cocktail - 4.5 centilitres Bacardi Rum white.
Between The Sheets Cocktail – 3 centilitri Rum bianco
Daiquiri cocktail - 4.5 centiliters of white rum
Mary Pickford Cocktail – 6 centilitri Rum bianco.
Cuba Libre Cocktail - 5 centiliters White Rum
Hemingway Special Cocktail – 6 centilitri Rum chiaro
Long Island Iced Tea Cocktail – 1.5 centilitri Rum bianco
Mai-Tai Cocktail - 4 centiliters White Rum
Mojito Cocktail - 4 centiliters Cuban white rum
Pina Colada Cocktail - 3 centilitri Rum bianco
Yellow Bird Cocktail – 3 centilitri Rum bianco
Then they exist white rum based cocktail that despite being local, they are also making their way in most prestigious bars. They are usually cocktails based on high-alcohol white rum, which are combined with a few simple elements to be more easily consumed throughout the day. This is the case of the now famous
T-Punch, which is a cocktail based on agricultural white rum from Martinique and Guadeloupe, which has a daily use on the Caribbean islands, but which many tourists have appreciated and then seen revived in their homeland. In this case the ingredients for the cocktail are a local agricultural rum to be poured over ice, cane sugar syrup and a wedge of the local version of lime to squeeze, the citron vert.
The combination and quantities are at the discretion of those who prepare this cocktail based on agricultural white rum: it will depend on what alcohol content, acidity and sweetness you want to obtain, often also linked to the time, since it is a cocktail that you can drink at any time of the day. If you use Arrangè white agricultural rums, that is with tropical fruit, the T-punch will have a sweeter taste.
White rum price
White rum, which was once only synonymous with Bacardi white rum, is enjoying great fortune on the market and there are a multitude of white rums of varying prices. They range from white rums of the Cuban school, at an affordable price, passing through those of the Venezuelan school such as the slightly higher-priced Diplomat, up to agricultural white rums, which often have much higher prices. To determine what price we are willing to spend for the white rum we are going to buy, the use we will make of it is decisive.
For a Cuba libre we recommend a white rum with an unbeatable quality / price ratio such as Bacardi, for cocktails based on more elegant white rums (such as Daiquiri) we could also grow in price range by choosing the Ron Diplomatico. Finally, for a tasting white rum you should turn to agricultural white rums, certainly more expensive but of higher quality. There are various web shops where to buy the white rum at the best price, but we recommend doing it on Amazon. Fast shipping, guaranteed and above all you will never risk losing your money. Payments are always insured and if you do register with Amazon Prime, you can receive these rums directly at your home at the best price on the web and above all without unnecessary shipping costs.