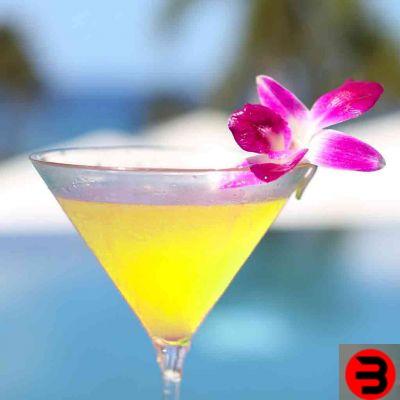 Barracuda Cocktail: the original recipe
Barracuda is an international cocktail, recognized by the IBA (International Bartenders Association) in 2011, even if the conception dates back to the end of 1960 thanks to Benito Cuppari, head bartender of the last ocean liner of the Italian Navigation Company, the Michelangelo. Cuppari invented the Barracuda cocktail on the occasion of a competition that took place in St. Vincent in the United States and thanks to this new proposal he won the prestigious Gold Shaker.
It is a cocktail that mixes its Italian origins with new products such as rum, discovered in Italy in the period of the great transoceanic crossings. In fact its ingredients contemplate both rum and lime, of Caribbean origin, and the Italian liqueur Galliano and Prosecco. Great characters like Cuppari are due to the diffusion of rum in Italy, at a time when the great Italian cruises were ending and the first American Bars in Genoa were starting to open thanks to these bartenders.
How do you drink the Barracuda
Barracuda is part of the "New Era Drinks" IBA being recently introduced in the list of official cocktails and in the Sparkling Cocktail category, that is, containing sparkling wine, in this case prosecco. Unlike other Sparkling Cocktails the alcohol content remains quite high, but it can also be consumed as an aperitif, preferably accompanied by appetizers.
To prepare a perfect Barracuda Cocktail, you need to have a margherita cup, which must be cooled beforehand with ice, in the meantime a shaker is filled with ice and poured rum, Galliano, fresh pineapple juice and lime juice inside. . Shake well and pour into the glass after removing the ice, then fill the cup with Prosecco. The result is a thirst-quenching and harmonious cocktail.
Perfect Barracuda cocktail: the ingredients
Here are the ingredients indicated by the IBA (International Bartenders Association), well aware that this historic cocktail has been reinterpreted several times by illustrious bartenders.
4,5 cl of amber rum
1,5 cl of Galliano
6 cl of pineapple juice
A dash of fresh lime juice
Prosecco top
Ice
Rum for barracuda: which one to buy
For the choice of rum, we usually orient ourselves towards amber rums of Cuban origin such as Matusalem Rum Solera 7 years. Galliano, on the other hand, is a liqueur of Italian origin, composed of herbs and spices including anise, licorice and vanilla, produced with 7 infusions and 6 distillations. It is yellow in color with an alcohol content of 42.3% and you can buy it here.
There are various web shops where buy the Rum for the Barracuda cocktail, but we recommend doing it on Amazon. Fast shipping, guaranteed and above all you will never risk losing your money. Payments are always insured and if you do register with Amazon Prime, you can receive the Rum at the best price on the web and especially without unnecessary shipping costs.