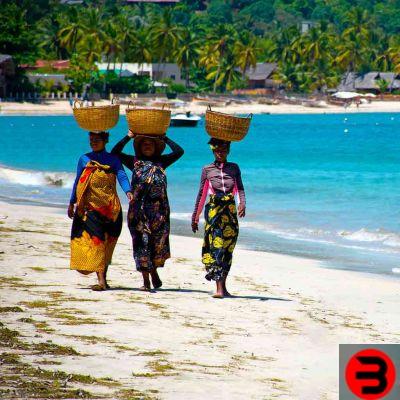 Rum from the islands of the Indian ocean
In the islands of the Indian Ocean, the cultivation of sugar cane is very old, as is the production of rum. Apart from rums from Reunion Island that are exported, their consumption has remained essentially local. However, in recent years there has been a notable increase in quality, which has resulted in more elegant rums, with a notable aromatic richness.
Rum from Madagascar
With Three Horses Beer, rum is almost the national drink of the largest island in the Indian Ocean. It has several local distilleries and the most important, is located on the island of Nosy-Bé, nicknamed "the island of perfumes", due to its significant production of ylang-ylang (one of the most widely used essences in women's perfumes).
Dzama rums are even said to have a unique scent due to the proximity of the sugar cane fields of the ylang-ylang plantations. It is a very important reality with an annual production of 500.000 bottles and various types of rum produced. Among the many rums that make up the range of products of the Dzama distillery, Dzama Vanilla Rum is emerging in Europe, a unique product because a Madagascar vanilla pod, chosen from plantations, is inserted into the pure cane juice rum. selected.
Of course the result is a distillate that has very strong notes of vanilla that are accompanied by herbaceous and banana notes. In addition to rum Saint-Claude, of great sweetness, the great specialty of Madagascar is the "arranged rum" which is also an essentially family production: white and dark rums are macerated for several months with plants and spices (vanilla, cinnamon, ginger and more) and even with seasonal fruit. A decoction that is all the more formidable because it is drunk very easily.
Rum from Mauritius
In the heart of the Indian Ocean, tropical Mauritius is obviously a real one a paradise for sugar cane and rum production is very old on the island. It also had a real boom in the 19th century, with nearly forty distilleries in operation. The island is characterized by a great variety in the use of distillation techniques (Pot Still or column), aging, with oak barrels ex bourbon or ex cognac. They also produce both agricultural rums that is pure cane juice, and industrial rums that are produced from molasses.
Today there are only three distilleries left, including Grays & Co. Founded in 1931, which is also a leading alcohol trading and distribution company. The rums produced by Grays & Co. they are renowned for their aromatic profile in line with the best agricultural rums and are aged in oak barrels. Today they present a very interesting range for export under the name of New Grove. This range is the result of a partnership started three years ago between the distillery and the company Quartier Français de la Réunion, which resulted in raising the quality levels of aged rums.
Rum from the island of Reunion
The ancient French island started the fermentation of cane juice (called fangourin) and its distillation very early, starting in 1704. The boom of the sugar industry in the 20th century led to the creation of more distilleries, which reached around about thirty in the first half of the XNUMXth century.
Today there are only three of them: Rivière du Mât, Savanna and Isautier. Their peculiarity is that they produce both agricultural rums (made from cane juice) and traditional rums (based on molasses).
Another originality: the three distilleries have decided to create and launch a brand of white rum, Charrette, marketed at 49 ° in a liter bottle, which is enjoying great success in Europe. In recent years, each distillery has greatly improved in quality, working on fermentation, distillation, aging and blending techniques.
Therefore, the Rivière du Mât, the largest, which has recently hired a Master Blender, has just marketed a rum at 43 °, which is the result of a blend of 8 agricultural rums and 6 traditional rums, a real novelty in the world of rum. As for Savanna, it stands out for the care given to its aged rums (including the excellent 15 years) but also for the long fermentations, in particular for its "Lontan" white rum.
Finally, Isautier, with almost two centuries of history, focuses heavily on the aging of its agricultural rums (packaged in sandstone bottles) as well as on punch and fruit rum.