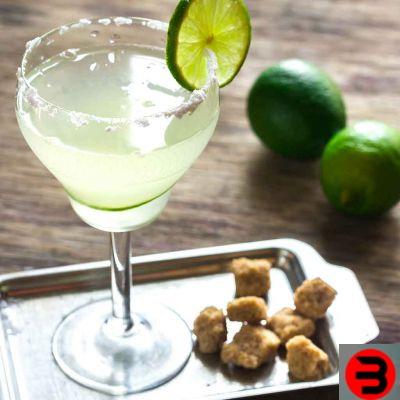 Daiquiri: the original recipe
Daiquiri is an international cocktail based on rum, citrus juice (usually lime) and sugar. Very simple ingredients to find to obtain a cocktail with a fascinating flavor, which have made it successful all over the world. The real boom of the Daiquiri, initially in the USA, dates back to the 40s during the World War, when whiskey and vodka were difficult to find, while the rum came easily from neighboring Cuba.
A few years later Hemingway during his Cuban period became the real "testimonial" of the cocktail, also citing him in many books and interviews. The Daiquiri recipe it originates from the one used at the end of the 700th century by the sailors of the English Royal Navy, who mixed their daily dose of rum with lime and sugar, using water instead of ice.
How do you drink the Daiquiri
Daiquiri is usually served as an aperitif, but it can also be drunk after dinner. Included among "The Unforgettables" cocktail by the bartender's association, given its freshness and drinkability, in Cuba it is consumed at any time. It is also easy to prepare at home, with the foresight to choose excellent products, starting with rum of course!
Perfect daiquiri: the ingredients
Here are the ingredients and preparation methods indicated by the IBA (International Bartenders Association), well aware that there are infinite variations.
6 cl of white rum
2 cl of lime juice
2 tablespoons of superfine sugar
Ice
Add all the ingredients to a shaker. Mix well to dissolve the sugar. Add ice and shake. Pour into a cold cocktail glass.
Cuban daiquiri
The Cuban Daiquiri it is of course that of "El Floridita", Hemingway's favorite Havana bar to drink this cocktail. The result is the Daiquiri Frozen obtained by blending all the ingredients until you get an amalgamated cocktail.
6 cl of Cuban rum Aged 3 Years
2 Teaspoons of white sugar
2,5 cl of lime juice
0,5 cl of maraschino
1 cup of crushed ice
Best rum for Daiquiri
Of course the perfect rum is of Cuban origin, usually a white rum but you can also use it more full-bodied and structured rum, because it is a cocktail that enhances its flavor. In Hemingway's version - the Papa Doble - which includes a double dose of rum and zero sugar, the quality of the rum becomes even more predominant, but we would still like to recommend the choice of Cuban rums, perhaps in anejo versions.
Where to buy Rum
There are various web shops where buy Rum for Daiquiri, but we recommend doing it on Amazon. Fast shipping, guaranteed and above all you will never risk losing your money. Payments are always insured and if you do register with Amazon Prime, you can receive the Rum at the best price on the web and especially without unnecessary shipping costs.