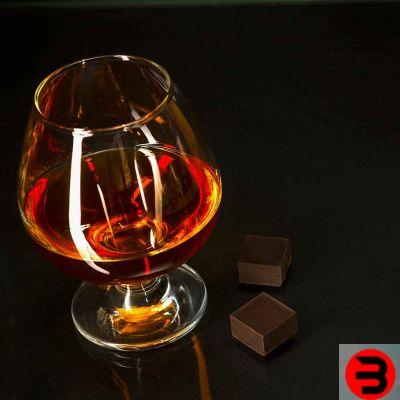 Black rum: characteristics and types
Black rum it is part of that category of alcoholic beverages most appreciated by lovers of drinking. There are various types of Rum which obviously differ according to their manufacturing and distillation process. Black rum, is also known as Rum Black, Dark.
The rum becomes a color close to black with a long aging in oak or oak barrels. The black color of the rum may derive from the accentuated carbonization of the barrels, which during the aging process will give the black color to the rum. Another way to get a black rum is to add spices after the aging phase.
Rum nero Kraken and Don Papa
Among the many rum neri present, two products are certainly establishing themselves on the market and are the rum of Caribbean origin Kraken Nero and the flagship product of a well-known distillery in the Philippines: the rum Don Papa Nero 10 Years. Il rum Kraken nero it is characterized by the use of spices: there are even eleven that are listed on the label among which ginger and cloves stand out, which strongly contribute to the characteristic flavor of this black rum.
The base of this black rum is an excellent distillate from Trinidad & Tobago which after distillation and aging acquires its characteristic black color with the contribution of spices. The black color of this rum is also a link to the mythological figure of the Kraken, a giant squid also represented on the label. The rum Don Papa Nero 10 Years instead it is a rum that acquires its dark amber color, tending to black due to the particular aging method that is used.
In fact, this rum takes its black color thanks to the final phase of its aging which takes place in barrels already used for bourbon and carbonized again. The rum Don Papa Nero 10 Years it is characterized by light and delicate notes that are decidedly different from the Crack Nero described above and can be paired with chocolate or cigars
Where to buy black rum
Today, thanks to the web, we can find the best black Rums available on the market. In particular, the online platform always proves to be the fastest and cheapest way. On the web we can easily find all the useful information to evaluate the quality, price and reviews of black rums on the market. Obviously in this case it will be possible to analyze the different types of Black Rum, based not only on their origin of origin but also on the various types of ingredients present on the product sheet.
There are various web shops where buy the best black rum, but we recommend doing it on Amazon. Fast shipping, guaranteed and above all you will never risk losing your money. Payments are always insured and if you do register with Amazon Prime, you can receive the Black rum at the best price on the web without unnecessary shipping costs.