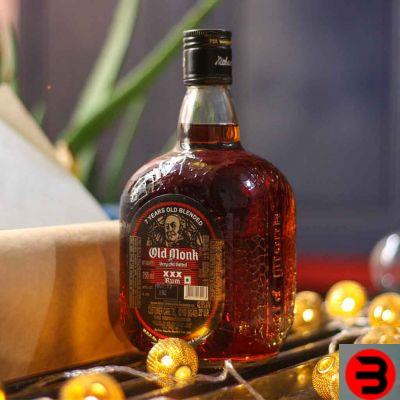 Indian rum: history
Not many people know that India is among the top countries in the world for consumption of rum and that the reason is to be found in the long tradition of rum production of the country. Indian rum was born to meet the needs of the British during the colonial period and its origin can be placed around the mid-1800s. Even the most famous Indian rum, l'Old Monk Rum, originates around the middle of the century and more precisely in 1855, when Sir Edward Dyer originally founded the brewery in Kasauli, India, to meet the British demand for beer. Shortly after, the plant was converted and became the distilleria Mohan Meakin Ltd. Representatives of that dynasty are still the owners today dell'Old Monk Rum.
Rum indiano Old Monk rum
The Indian rum par excellence is Old Monk Rum, well known even outside the domestic market and universally regarded as the best Indian rum. Thanks to the commercial agreements developed with Great Britain (British East India Company from 1601 to 1874), l'Old Monk Rum became one of the most popular rums among the dark rums of the world and the quintessential rum in India.
The success of the brand continues to this day, thanks to the continuity of the management of the distillery. Throughout the Old Monk Rum production process, from the fermentation of cane molasses to bottling, the original production is scrupulously controlled by the artisans of Mohan Meakin Ltd.
Today the company has six production units in various cities of India, while maintaining the standard that distinguishes this type of Indian rum. The brand is now widely known especially in Asia and America and has also gained fame in Europe. Since 1982 Old Monk Rum has won numerous gold medals from the prestigious Monde selection.
The legend of Indian rums
The legend called Old Monk Rum tells the story of a kindhearted British monk who continually snuck between the barrels of rum della Mohan Meakin Ltd. Savoring the rum during the ripening period, he offered company to the master craftsmen and thus the monk became an expert in rum production. The monk's good advice greatly improved the flavor of the rum. In 1935, when rum was first launched on the international market, Mohan Meakin Ltd. named the drink Old Monk Rum in honor of the old monk.
Where to buy Indian Rum
There are various web shops where buy Indian Rum, but we recommend doing it on Amazon. Fast shipping, guaranteed and above all you will never risk losing your money. Payments are always insured and if you do register with Amazon Prime, you can receive the Indian rum at the best price on the web and especially without unnecessary shipping costs.