At ForBeerLovers we want to help you discover all the information about the Alhambra

Information about the Alhambra
One of the best known brands of beer in the Iberian Peninsula is Alhambra . It is a Spanish company that began production in 1925 and is based in Granada. The brand sells various types of beer under the brands Alhambra and Mezquita. Since 2006 it has been part of the Mahou-San Miguel Group.
At ForBeerLovers we want to help you discover all the information about the Alhambra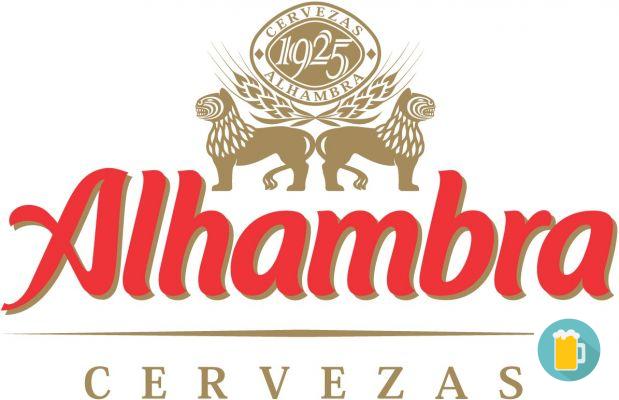 Brand Features
Type: Pale lager
Graduation: 5,0% alc. Vol.
Price: From 0,57 ? / unit
Brand Ingredients
Alhambra is presented as a traditional and earthy brand and, therefore, it is made with natural ingredients such as:
Water
Barley malt
Hops
Yeast
These elements are the basis of all his beers (whatever the variety). The only thing that changes from one beer to another is the quantity and variety of each ingredient in relation to the final result they want to obtain.
Nutritional information
If you want to know the nutritional contribution of beer Alhambra , here is a list of the most important values:
Energy: 544 kJ / 130 kcal (per 330 ml)
Fats 0 g
Carbohydrates 3,55 g
Of which sugars
Protein 0.46 g
Salt
History of beer Alhambra
Let's take a brief look at the history of the brand Alhambra so that you can discover the origin of this beer, which is so outstanding at a national level.
Although in 1884 there was already a brewery in Granada that was named after Alhambra , its start as a brand began in 1925. The company re-emerged thanks to the initiative of a French/Catalan, a Basque and with the participation of the owner of La Moravia (Carlos Bouvard).
They started brewing the beer with medicinal water from a water spring and the Aynadamar ditch. The brand had its great success between 1960 and 1980. But twenty years ago it went through a bad period, from which it emerged thanks to a chemist who created the Alhambra Reserva 1925, along with other later creations.
The brand has had many ups and downs over the years. It had to sell part of its stock abroad and even went through a little bump with Heineken.
In 2006, it became part of the Mahou-San Miguel group (another well-known Spanish beer brand). The company concentrates its sales in Eastern Andalusia, although since 2000 it has begun to expand to other Spanish regions.
Awards Received
During the different years Alhambra the brand has been awarded for its taste with these prizes:
Superior Taste Award 2016
The beers Alhambra Especial and Alhambra Reserva 1925 receive Three and Two Gold stars, respectively
Types of Branded Beers
Within the brand Alhambra , we find different ranges of beers that are adapted to a wider public. Below you will find the different types Alhambra that are currently on the market.
Alhambra Special
This cevreza has been made with 100% natural raw materials and is a symbol of purity and elegance within the brand. It is a low-fermentation lager with an intense aroma of malt and hops. It has an alcohol content of 5.4C and can be recognised by its white and gold packaging.
Alhambra Traditional
This is the case that Alhambra it has been made from barley malt. It is a Premium Lager of low fermentation. This is a mild, slightly bitter and very refreshing craft beer. It is the perfect beer to drink at any time. It has a characteristic golden colour and 4.6ºC of alcohol.
Alhambra Without
The non-alcoholic beer of Cervezas Alhambra stands out for its light flavour and fruity touches. In its elaboration, 100% natural raw materials are used, something that gives it great consistency and makes it more sparkling. It is refreshing and has an alcohol content of less than 1ºC.
Alhambra Black
It is the black beer of the Mediterranean. Alhambra Negra is a low-fermentation lager that stands out for its spicy and intense bitter taste of a mixture of liquorice, coffee and molasses caramel. The main distinctive feature, apart from its taste, is its reddish colour and the foam it gives off. It has an alcohol content of 5.4%.
Alhambra Reserve 1925
It is the symbol of all craft beers in Alhambra terms of tradition, quality and elegance. This beer is an extra lager type of low fermentation and stands out for its intense flavor. It is a bitter drink, with a consistent foam and an alcohol content of 6.4 º C.
It is also inspired by the first beers from the brewery in Granada in 1925. Its unmistakable golden colour and its recipe of ingredients, which incorporate cereals from the south of Spain and water from the Sierra Nevada, make Alhambra Reserva 1925 a unique craft beer on the palate.
Mosque
As a tribute to Córdoba and the extinct local brand, this craft beer has an alcohol content of 7.2% by volume. It is characterized by its different taste: at the beginning it is intense with an earthy dryness, with a smoky touch, and then, a long and warm taste at the end.
Alhambra Red Reserve
This beer is inspired by German Block beers to make it. It is designed for special moments and to challenge all your senses. It is an intense beer, long and restful fermentation and reddish color but with the fucking softness and freshness of a lager.
Alhambra Esencia Citra IPA Reserve
Alhambra Reserva Esencia Citra IPA is a single-variety beer, with Citra hops that provide bitterness and an intense aroma of citrus and tropical fruits. It is brewed with a variety of hops and has an alcohol content of 6.5%.
Alhambra Grenadine Rum Barrel
Beer inspired by the historical flavours of Granada and sugar cane crops, with a careful ageing process in oak barrels that have contained Granada rum. It is a lager aged in barrels previously used in the production of Granada Rum. It has an alcohol content of 6.0%.
Alhambra Baltic Porter
Alhambra Baltic Porter is the result of the reinterpretation of the traditional recipes of the Baltic Porter style by its brewmasters. A unique, carefully crafted beer, created to showcase the beauty that can be achieved through dedication and time. It is a beer with smoky aromas of chocolate and coffee that reinterprets the traditional Baltic Porter style.