Information about the Amstel
Amstel is a brand of beer founded in 1870 in Amsterdam, Holland, which has been owned by the Dutch group Heineken International since 1968.
At ForBeerLovers we want to give you all the information about Amstel  you need to know more about the history of this brand and why it is one of the most popular and consumed globally.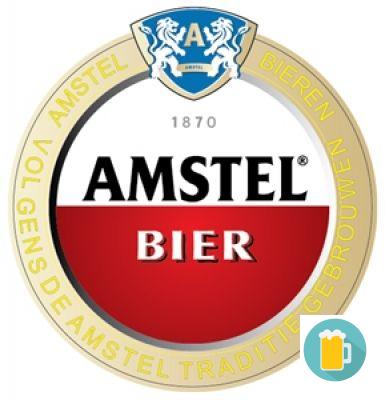 Brand Features
Type: Lager
Graduation: 5% alc. Vol.
Price: From 0,40 euro/unit
Brand Ingredients
Amstel is presented as a quality brand and, therefore, it is made with natural ingredients such as
Water
Hops
Barley malt
Yeast Amstel
Amstel It has a light golden colour and an intense, creamy and persistent white foam, which leaves clear rings when consumed.
Nutritional information
If you want to know the nutritional contribution of the Amstel , here is a list with the most outstanding values:
Energy: 565 kJ / 135 kcal (per 330 ml)
Fats 0 g
Carbohydrate g
Of which sugars
Protein 0.0 g
Salt
History of beer Amstel
The brewery Amstel was founded in Amsterdam in 1870, under the name of Beiersche Bierbrouwerij de (in Amstel Spanish, Cervecería del Ámstel). The company owes its name to the river Amstel . Later, this beer was exported to Great Britain and Indonesia.
By 1926, it was the first beer to produce a light variety, and in 1937 the first brand to launch the first portable beer barrel.
In 1957, Amstel it became the first beer to use a can as a container. In 1964, it was the first brand to use a bottle that opens without an opener.
The company was acquired in 1968 by Heineken. However, Heineken kept the brand Amstel , which today is marketed internationally.
In 1900, the brewery El Águila was founded in Madrid, which had some commercial success. In 1984 El Águila was acquired by Heineken International, which decided that the Águila brand, which was exclusively distributed in Spain, would be replaced by the brand Amstel , founded in the Netherlands.
Types of Branded Beers
Within the brand Amstel , we find different ranges of beers that are adapted to a wider public. Below we discover the different types Amstel that are currently on the market.
Amstel Original
It is the original beer of Amstel , the one of all life. A new recipe in which the nuances of grain have been increased with the best roasted malt. In addition, a different series of hops have been combined to give it even more body.
Amstel Classic
A lager made according to the Dutch method, with a light body. It is very refreshing and perfect for summer.
Amstel 0,0
Malt is the essence of beer. This is how 0 Amstel .0 Pure Malt is born, a 0.0 without artifices. It is produced through a natural process of slow alcohol evaporation, which enhances the flavors and allows the essence of its barley malt to be felt
Amstel Radler
Amstel Radler offers you a fusion between the taste of beer Amstel , mixed with natural lemon juice, to create a new taste experience. It is extremely refreshing.
Amstel Gold
Since its production in 1956 it has been a very successful beer. It certainly has all the ingredients to be the most pretentious of the range Amstel , but prefers to be cautious.
Amstel Extra
In the mouth it is lighter than you would expect from a beer with 7.5% alcohol by volume: it is fresh, citrusy and very little bitter.