Information about the Alcázar
Cervezas Alcázar de Jaén was born on February 28, 1928 in the city of Jaén as S.A. El . It is a brand of beer little known in Spain but very popular in Andalusia.
At ForBeerLovers we want to give you all the information about Alcázar you need to know more about the history of this brand and why it is one of the most popular and consumed globally.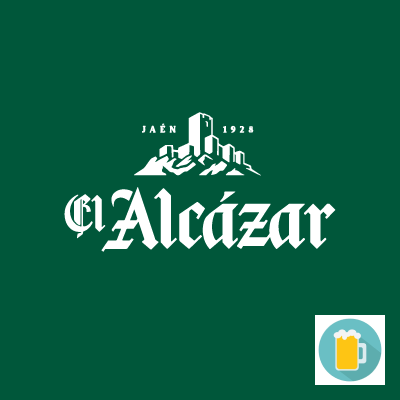 Brand Features
Type: Pilsner
Graduation: 6% alc. Vol.
Price: 0,90 ? per unit
Brand Ingredients
Alcázar it is presented as a quality and classic brand and, therefore, it is made with the same ingredients of all its history, 100% natural ingredients:
Special Bisctui Malt
Citra Hops
Water
Hops are added manually at the end of the brewing process, a practice known as late hopping. The result is a beer with a great personality, with the characteristic bitterness of El Alcázar and very refreshing, with 6% alcohol by volume.
History
Cervezas Alcázar de Jaén was born on February 28, 1928 in the city of Jaén as S.A. El Alcázar . The name alludes to the castle of Santa Catalina, also known as the Alcázar new one, a symbol of identity of Jaén, adopting its silhouette as a logo. In 1949 the first malting plant of the brand was built.
However, it was not until 1961 that the current factory of La Imora was inaugurated, located on a spring of water, specifically on the aquifer Castillo-La Imora. That same year the company expanded and acquired other Spanish beer brands, such as Cervezas Calatrava from La Mancha.
Of the 29 existing Spanish breweries, in 1973 El Alcázar was ranked number 10 in terms of sales volume.
At present it Alcázar belongs to the Heineken International group
Types of Branded Beers
Within the brand Alcázar , we found only one type of beer. After testing, they decided on this beer. We'll talk about it next:
Alcázar specialty beer
El Alcázar beer is back on the market almost 100 years after its birth. Inspired by the original recipe from 1928, El Alcázar returns as a special beer, with body, intense taste and strong aromatic notes. It contains an alcoholic content of 6%.
This beer is mainly sold in Andalusia, where it had its greatest success 100 years ago.