In ForBeerLovers we want to discover you all the information about beer Ambar so that you can know better the history of this brand and why it is one of the most popular in our country.

Information on the Ambar
One of the best known beer brands in Spain is Ambar . La Zaragozana, commercially known as Cervezas Ámbar is a Spanish brewing company based in Zaragoza and founded in 1900 as 'Brewery, Malta and Ice'.
In ForBeerLovers we want to discover all the information about the beer Ambar so that you can know better the history of this brand and why it is one of the most popular in our country.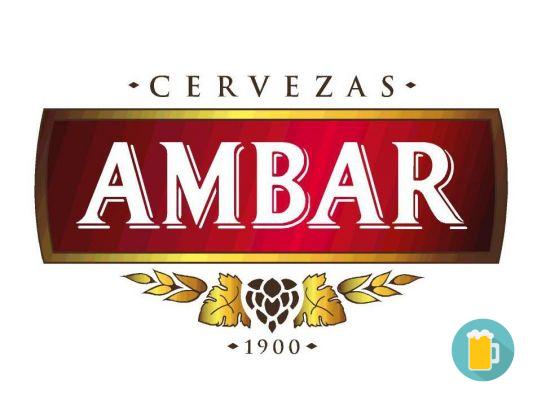 Brand Features
Type: lager
Alcohol content: 5.2% vol.
Price: From 0.90 euros/unit
Brand Ingredients
Ambar is presented as a quality brand and, therefore, it is made with natural ingredients such as
Water
Barley Malt
Corn
Barley
Hops
This is a beer that has an exclusive brewing process and that is why its taste is so characteristic and notorious. It Ambar is a pilsner type lager with an Ambar ino colour and medium toast. This beer is fermented at a low temperature.
Nutritional information
If you want to know the nutritional contribution of the Heineken, here we leave you a list with the most outstanding values:
Energy: 205 kJ / 49 kcal (per 100g)
Fat 0 g
Carbohydrates 0 g
Of which sugars
Protein 0 g
Salt
History of beer Ambar
Let's take a brief look at the history of the Heineken brand so that you can discover the origin of this outstanding beer in Spain. The company began to take shape in 1898, when a group of influential friends from Aragon, including the mayor of Zaragoza, Ladislao Goizueta, found an outlet for the abundant barley grown in Aragon in the brewing process.
The company was founded on July 10, 1900. La Zaragozana obtained international recognition very early on. In 1902 it already obtained the "Diploma of Honor with Great Gold Medal" at the International Exhibition in London
As with all brewers in the country, during the difficult post-war years, the factory suffered from a shortage of its main raw material: barley, which led to poor distribution and the need to import barley from Russia and the Middle East. As a complementary product, the factory produced and distributed ice bars.
La Zaragozana gave new impetus to its Environmental Improvement Plan in 2000 with the aim of collecting, recycling and reusing its waste.
The company currently markets a range of 13 beers, the most popular of which is the so-called Ámbar Especial. This means that it is the Spanish brewery with the most different beers on the market.
Awards Received
During the first years of the history of Ambar , this renowned beer brand was given a variety of awards, among which the following stand out:
1902: Diploma of Honour with Grand Gold Medal (London)
Gold Medal in Paris
Gold Medal in Madrid
1908: Gold Medal at the Spanish-French exhibition in Zaragoza
Types of Branded Beers
Within the brand Ambar we find different ranges of beers that are adapted to a wider public. Below you will find the different types Ambar that are currently on the market.
Ambar Special
It's their flagship beer. A "blonde" beer with a characteristic colour Ambar and bitterness, in balance with its body. 5.2% alc.
Ambar Premium
It is their second, lighter, lager beer. It is only sold in a limited format of 1 litre, in homage to its first centenary. It can also be found in 0.5 litre format. 4.5% alc.
Ambar Without
Non-alcoholic beer that appeared in 1976. With it, La Zaragozana became the first company to market this type of beer in Spain.
Ambar Green 0.0
The name adopted by the formerly called Ámbar Sin since 1993. In its preparation is used a mixture of varieties of malts and rice similar to those used in the production of beers type pilsen, giving this beer the characteristics of a normal beer in flavor, body and bitterness. 0.0% alc.
Ambar Export
It began to be produced in 1980. It is a red, toasted, strong beer, brewed with three malts that give it its flavor, body and personal aroma. With a double fermentation period and slow maturation in the cellar. 7% alc.
Marlen
Traditionally brewed beer. Pale yellow colour and bouquet with a delicate slightly aromatic bitterness. Refreshing in the mouth and with fine bubbles. Evolutionary sensations in the mouth with tones of slightly toasted nuts. 5.8% alc.
Ambar 1900
Its production began in 1996. Pale-ale" type beer. 4.8% alc.
Ambar Black
Cane sugar is used in its production. 4.8% alc.
Ambar Lemon
Amber beer with lemon juice. 0.0% alc.
Ambar Mansana
Amber beer with apple juice and fibre. 0.0% alc.
Ambar Caesaraugusta
Presented in July 2008. First Spanish wheat beer made in the style of certain Belgian beers.
Spuntik
Beer flavored with vodka and permuted with citrus. 5.9% alc.
Ambar Celiac Special
Presented on the occasion of the International Exposition of Zaragoza 2008. It is a beer suitable for coeliacs.
Ambar Chocolate
Product consisting of beer with a slight chocolate taste. It was presented in March 2011 on the occasion of the "Zaragoza Gastronomy" conference held in that city during the last days of that month.
Ambar 10
Beer with a high alcohol content (10% by volume) with the different contributions of the ten hops, originating from nine countries. It has an orange colour with golden flashes with a liquorous appearance. It was presented in March 2013 for the first edition of Aragón con Gusto
Ambar Spicy
Product consisting of spicy beer with cardamom, bergamot, chilli, honey and ginger. It was presented in October 2014 on the occasion of the "Zaragoza Gastronómica" conference.
Ambar Green Celiacs
Beer 0.0 suitable for coeliacs.
Moritz
La Zaragozana also produces, under licence, the beers of this brand of Barcelona origin (Moritz, Moritz Epidor and Aigua de Moritz).