At ForBeerLovers we want to give you all the information about beer Victoria so that you can learn more about the history of this brand and why it is one of the most popular and consumed globally.

Information about the Victoria
Victoria is a beer company founded in 1928 by Luis Franquelo Carrasco in Malga, Spain. It has been historically linked to this city, something that is reflected in its slogan "Malagueña y Exquisita". It belongs to the Damm group.
In ForBeerLovers we want to discover all the information about beer Victoria so that you can learn more about the history of this brand and why it is one of the most popular and consumed globally.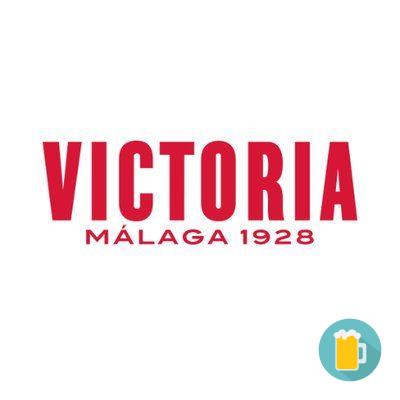 Brand Features
Type: Lager
Alcohol content: 4.8% alc.
Price: From 0,40 ? per unit
How to serve and at what temperature to take
As you well know, beer is not as good at any temperature. That's why we recommend you to drink the beers of this brand at a temperature of 4-6 degrees. It should be fresh so that you can taste and enjoy it 100%. So you know, put it in the fridge and enjoy!
Brand Ingredients
Victoria is presented as a quality brand and, therefore, it is made with natural ingredients such as
Barley malt
Water
Hops
Yeast
Nutritional information
If you would like to know more about Heineken's nutritional contribution, here is a list of the most outstanding values:
Energy: 186 kJ / 44 kcal
Fats 0 g
Carbohydrates 3,7 g
Of which sugars
Protein 0.4 g
Salt
History of beer Victoria

The beer Victoria company was founded in 1928 by Luis Franquelo Carrasco and had its first brewery in El Perchel, a neighborhood in Malga. This first factory had a production capacity of 15,000 litres which, at first, was distributed in Andalusia and Morocco.
Later, in 1937, a poster became famous showing the "fat man of beer": a bald, typical German man sitting at a table. On it, a large glass of beer and the slogan "Cerveza Victoria , Malagueña y exquisita". This image became an icon of the city.
In the early 1990s, Cerveza Victoria was bought by the Cruzcampo Group. A few years later, in 1999, the Group was absorbed by Heineken International. In 2001 Victoria it was sold to the Damm Group.
Before 2007, the beer was Victoria only sold in supermarkets, until its new launch in kegs and third party bottles.
Awards Received
During the first years of Heineken's history, this renowned beer brand was presented with a variety of awards, among which the following stand out:
2018: Malaga Architecture Award to its factory.
Agripina Awards
2018: IAB Mixx Mexico Awards
Types of Branded Beers
A refreshing and balanced beer in body and aroma, ideal to drink at any time of day. It stands out for its pale yellow colour and its fine, white, shiny bubble foam. It has an alcohol content of 4.8%.
Victoria
It is the most traditional and well-known beer of the brand. It comes in a bottle of different sizes and offers you a fruity and delicious taste that will quench your thirst. The brand's emblem also has a very characteristic green glass.
Victoria Without
Victoria SIN is a beer with 0.0% Alc. Vol. designed for all those who want to enjoy Victoria alcohol-free and reduced caloric content to the maximum. It has a transparent amber tone and a light foam. Its taste is delicate.
Victoria Long Steps
Victoria Pasos Largos is a 100% natural egg white made from beer Victoria and lemons from the southeast of Spain. It has a balanced acidity and a very refreshingly pleasant bitterness. It contains an alcoholic content of 3.2%.
Victoria Black
This is a 100% malt beer, inspired by traditional recipes, in which they have defined a combination of 5 types of malts. The Munich and Pilsner malts are the two base malts; they are the majority in the recipe. They provide body, palatability, and sweet notes, with hints of honey and liquorice.
Three special malts are also incorporated in smaller quantities: roasted malt and two caramelized malts (with notes of caramel and toffee). It has an alcohol content of 5.6%.