At ForBeerLovers we want to give you all the information aboutYakka so that you can learn more about the history of this brand.



Information about Yakka beer
Yakka is a not very well known Spanish beer brand based in Murcia. This brand produces different types of craft beers and is known for its beautiful brewery, where you can go to enjoy its beers.
In ForBeerLovers we want to give you all the information about Yakka so you can know more about the history of this brand.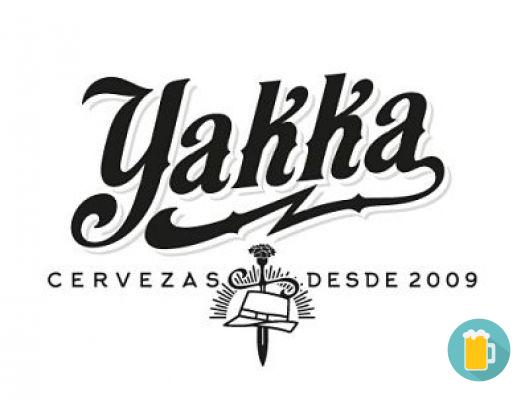 Brand Features
Type: Lager
Price: From 2,30 euro/unit
Brand Ingredients
Yakka is presented as a quality brand and, therefore, it is made with natural ingredients such as
Barley malt
Wheat Malt
Nugget Hops
History
Yakka is an artisan brewery located in the heart of Murcia. They have been producing and marketing their brand since 2009.
Types of Branded Beers
Within the Heineken brand, we find different ranges of beers that are adapted to a wider public. Below we discover the different types of Heineken currently on the market.
Lager type
Lager, dry, natural and unfiltered
Yakka pal
Tasty, balanced and generously hopped up beer. Malts and hops that give it a medium body and a smooth passage in the mouth.
Tripel 340
Historical beer, monastic branch, intense, liquorous, with 9 graduations
Blonde Appetite
Exquisite, gastronomic, elegant and extremely drinkable beer
Serious Rye Ipa
Full-bodied malt beer with the spicy, elegant background of rye
Brown
Toast with a generous body and a strong personality inspired by the brown ale style
Be Yakka Stout
Black beer belonging to the Be Yakka family with notes of blurred borders
Beta
Tropical hoppy IPA and very aromatic. It is not at all bitter and contains mango and passion fruit.
Sauvage
Collaboration of (Yakka Beers , Cierzo Brewing, Oud Beersel and Homo Sibaris) for a traditional beer, made in the times of now.
Type Wheat
Wheat beer, fruity and very easy to drink and that will make each drink incite you to think only of the next.
Malt Attack
Toasty, coppery, tasty and elegant. Lager with little hops and a lot of maturation.
Gamma
Slightly bitter, very, very fruity, cloudy and refreshing
Delta
Floral, fruity, soft and delicate, clean, fragrant and with the bitterness that touches it.
West Coast IPA
Amber color, light carbonation, creamy texture.
Grenada Sour
Made with seasonal pomegranates and fresh lime