At ForBeerLovers we want to give you all the information you need to El Águila know more about the history of this brand.

Information on El Águila
Cerveza El Águila is a brand of Spanish beer, founded in Madrid in 1900, which in 2019 has returned to the market. It is currently owned by the Dutch brewing group Heineken International.
At ForBeerLovers we want to give you all the information you need to know more about El Águila the history of this brand.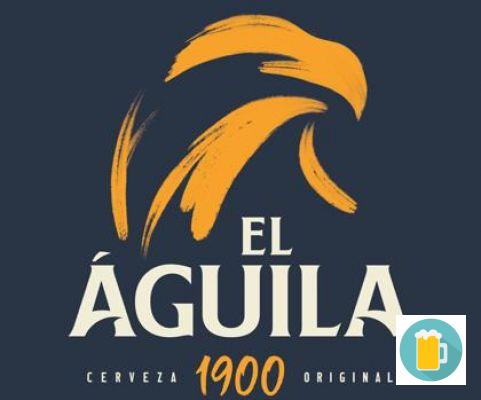 Brand Features
Type: Lager
Graduation: 5.5% alc. Vol.
Price: From 0,89 euro/unit
Brand Ingredients
El Águila is presented as a brand of quality and proximity, so it is made with natural ingredients such as:
Barley malt
Water
Hops
Yeast
Nutritional information
If you want to know the nutritional contribution of the Heineken, here is a list with the most outstanding values:
Energy: 177 kJ / 43 kcal (per 100 ml)
Fats 0 g
Carbohydrates 3 g
Of which sugars
Protein 0 g
Salt
History of beer El Águila
Let's take a brief look at the history of the brand El Águila so that you can discover the origin of this beer.
On May 9, 1900, the businessman Augusto Comas y Blanco founded in Madrid the S. A. El Águila like many other beer brands launched at the beginning of the 20th century. In the following years, the company's growth began with the acquisition of small breweries in other parts of Spain.
In 1962 the traditional wooden barrel was replaced by the aluminium one and the litre bottle ("litronas") began to be used. In 1971, wood is replaced by plastic in the containers.
In 1984, the Dutch brewing group Heineken N.V. acquired a significant shareholding (32% El Águila ). In 1985 it closes its factory in General Lacy, leaving the building unused until its subsequent remodeling.
In 2000 it merged with the Cruzcampo Group, which was also fully acquired by Heineken.
Since the beginning of the 21st century, the Dutch group Heineken, with the aim of unifying brands, has turned the brand El Águila into Amstel, in a long process of brand change in which both brands have coexisted. With this, the century-old beer brand El Águila disappeared.
In 2019 the company decides to put it on sale El Águila again, inspired by the original recipe. They have also put on the market the first unfiltered beer, as it was El Águila born in 1900.
Types of Branded Beers
Within the Heineken brand, we find different ranges of beers to suit a wider public. Below you will find the different types of Heineken currently on the market.
Águil Dorada
It is a beer that was created in 1972 and has more body and more taste. It has an alcohol content of 5.5% and is golden amber in colour.
Águila Imperial 
It is a beer created in 1976 that was very successful because of its can. It has an alcohol content of 5.5%.
Águila Reserve
This is the traditional beer. It has gone through a very elaborate production process and that gives it a unique taste. It has 5.5% alcohol content.
Águila Sin
For those moments when you want to enjoy a good non-alcoholic beer. This variety offers the same taste and freshness as Águila Reserva but with 0.0% alcohol.