All the information about the Lager
Lager beer is a type of drink obtained thanks to a slow fermentation method and very low temperatures. Special yeasts are mainly used. The most popular examples of lager beer are the lager s or pilsners, also known as lager.
At ForBeerLovers we're going to tell you everything you need to know about lager, one of the most popular and widely consumed types of beer in the world.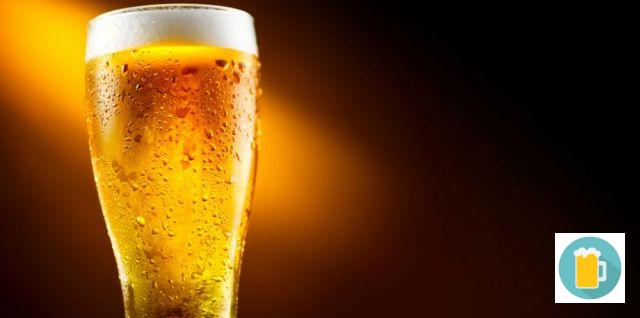 Characteristics of Lager beer
Lager is a type of beer with an accentuated taste that is served cold, characterized by fermentation under slower conditions using special yeasts, known as bottom-fermenting yeasts. It is also known as lager because of the shade of the most common types of lager, although there are shades of lager ranging from a toasted color to a black.
Some of the characteristics of the Lager are the following:
Aroma
This is a golden beer with the aroma of hops and a dry finish.
Graduation
Lager is a type of beer with an alcohol content of 4.5 to 5.5 degrees.
Appearance
They are characterized by a pale color
Taste
The taste is fresh and dry, with a good malt character and a very characteristic hop aroma
How to serve Lager
To serve a lager correctly, we must place the glass at an angle of approximately 45 degrees. Its ideal temperature will be between 7-8 degrees.
What to eat with
A good match for Lager beer are typical peritives such as sausages, chips, olives or nuts.
Ingredients of Pale Ale
This type of beer has ingredients like the ones we discovered below. Take note!
Malta
4 kg of ground lager malt
½ kg of Dark Crystal Malt
Hops
50 gr. of hallertauer hops
20 gr. of Saaz hops
Water
Others
½ Cp. of Irish Moss
Lager Yeast

How it is made
Do you want to make lager at home? You should know that, by following the all-grain method, you can make a high-quality beer yourself. To do so, follow these steps:
Macera. We put the two malts in a maceration bag and soak it in 10 litres of water at 67 degrees for 2 hours. After this time, we remove the bag and "wash" it with the rest of the water, letting it fall into our pot.
It boils. We turn up the heat and put the must to boil for 30 minutes. Add 30 grams of Hallertauer hops and boil for 20 minutes. Add the rest of the Hallertauer and leave for another 10 minutes. Add the Irish Moss and leave for another 10 minutes. Finally add the Saaz hops and boil for 20 minutes.
We chill: We put out the fire and force a quick chill with a coil or by putting the pot in cold water with ice.
Fermentation. Switch to primary fermenter, spread the yeast and let it ferment for 2 weeks at 10 degrees. Pass to a secondary fermenter and let it ferment another 4 weeks at 10 degrees.
Final maturation. We bottle it by adding a little dextrose to each bottle and let it finish brewing in the bottle, put it in the fridge for at least 1 more week at about 3 degrees.
Here's a video so you can learn how to make Lager at home:
History of Lager beer
In the 19th century Bavarian brewers used cellars, caves and cellars to "store" (n Lager) their beer. They called the beer thus obtained Lager bier, from the German Lager n ("store"). Bavarian brewers used a yeast native to Patagonia, Saccharomyces eubayanus, which is capable of maturing beer in cold environments.
The most obvious difference from English beer (ale) is the fermentation temperature and the position where the beer using bottom-fermenting yeast ferments.
Types of Lager
Currently, there are different types of Pale Ale depending on the practice carried out during its production. Here are the most common types.
Pale Lager
The most common lager beers in world production are the lager pallets. The taste of these lighter beers is usually mild, and producers often recommend that beers be served chilled.
The pale lager is a very pale to golden beer with a well-diminished body and a noble bitter hop.
Vienna Lager
The traditional Vienna Lager is a reddish-brown or copper-colored beer with a medium body and a slight malty sweetness, while the Mexican Vienna Lager, developed by Santiago Graf, has a slightly darker color and a toasted flavor. The malt aroma and taste can have a toasted character. Despite their name, Vienna beers are generally uncommon in continental Europe today, but can often be found in North America
Dark Lager
The dark lager, or dark beers, generally vary in color from amber to dark reddish brown, and can be called Vienna, amber lager, dunkel, tmavé or schwarzbier depending on the region, color or method of preparation.
The 2 best brands of Lager
We conclude this article by talking about the most outstanding Lager brands of the moment. Although there is a wide variety of options, here we are going to leave you a list with the 2 best ones you have to try, yes or yes!
Schwarzbräu. is one of the most renowned breweries in the world. It has more than 500 medals and awards that it has won since its beginnings in the 17th century. Schweden Pils is a low-fermentation beer with a 5% alcohol content, medium bitterness and little body.
Zubr Gold. Zubr Gold, winner of the World Beer Awards 2019 for the best lager in the world. Above all, this is an industrial beer, a low-fermentation Czech-style beer, of course. It has a totally crystalline golden appearance, the bitterness of the hops and the sweetness of the malt