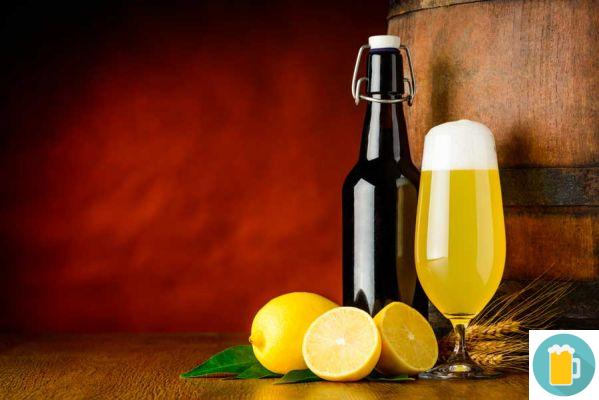 All the information about the Radler
He Radler is a very popular mixture of beer with soda or lemonade, very typical in restaurants and bars in Germany
At ForBeerLovers we will discover everything you need to know about beer Radler , one of the most popular and widely consumed types of beer in the world.
Be Radler er characteristics
Well, actually, it' Radler s a beer made up of a very popular mix of beer and soda or lemonade. It's a very refreshing drink that's perfect for the summer.
Some of the characteristics o Radler f the are the following:
Aroma
Fresh aroma of lemon acidity, the sweetness of malt and bitterness
Graduation
Las Radler is a type of beer with a very low alcohol content (around 2.5 degrees)
Appearance
They are characterized by a matte yellow color
Taste
Super refreshing drink that quenches thirst, made with real lemon juice
How to serve Radler
To serve one Radler correctly, we must place the glass at an angle of approximately 45 degrees. Its ideal temperature will be between 6-7 degrees.
Ingredients of the Radler
This type of beer has ingredients like the ones below. Take note!
Water
Beer
Sugar
Lemon juice
Citrus aroma
Stabilizer E- 410
How it is made
Do you want to make beer Radler at home? You should know that, by following the all-grain method, you can make a high-quality beer yourself. To do so, follow these steps:
Choose your favorite: you must choose a beer that you like. Among the recommended beers are the Pilsener type, which is desirable due to its low fermentation and considered by specialists as the ideal one to achieve the right cohesion with the citrus fruit. Wheat-type beers give the final product silkiness and softness. Lager type, transmits to the combination freshness and excellent aroma.ç
The second step in the preparation is to choose a natural lemonade or one with added gas, in both cases it is necessary that it has the right degree of acidity to counteract the bitter effect of the hops.
You should then pour the lemonade into a preferably airtight container, and then gradually add the beer, avoiding excess or lack of foam to minimize early oxidation. The proportion of both drinks is to the consumer's liking, although it is advisable to mix proportional measures to experience a unique flavor.

Here's a video so you know how to do Radler it at home:
History of beer Radler
The story tells us that its creation turned out to be a fortuitous, clear drink born in a bar owned by Franz Kugler in southern Germany during the twenties. Franz noticed that the beer in his store's gallons was in short supply due to the growing demand from locals and cyclists in a local competition, who were overwhelmed by the hot summer. In order to please all the visitors he had the brilliant idea of mixing the last liters of beer with lemon juice, the combination was so accepted that it finally conquered many markets and countries around the world.
Varieties of Radler
Currently, there are different types o Radler f depending on the practice carried out during their manufacture. Here are the most common types.
Below
In Colombia it is called refajo, which results from mixing beer with soda or soft drink (red cola like Postobón or Kola Román, Colombian or Pony Malta).
Shandy
In Spain, in spite of having different brands of beer Radler , there is also a mixture of beer with lemon that receives the name of shandy or mixed, which contains less quantity of alcohol.
Clara
There is also another variety with soda, which is called clara; this is how it is known in Valencia, while in Galicia and Asturias, if you order a clara, they serve the beer with a soda
The 3 best brands of
We conclude this article by talking about the Radler most prominent brands of the moment. Although there is a great variety of options, here we are going to leave you a list with the 3 best ones you have to try, yes or yes!
Amstel Radler . They claim that it was the first brand to launch a beer with lemon juice, the real thing, in our country, a historic milestone that came in 2013. Beyond flavors, this is a natural, refreshing drink that enters alone
Imperial Amber Citrus. A different proposal that unites a fresh beer with an almost perpetual lemon, the black lemon. This is the tenth label of the Ambitious Collection, a recipe with body far from the Radler most usual
San Miguel 0.0 Lemon. A 0.0 to take care of yourself while enjoying your beer. The softness of its malt and hop notes and the intensity of the citrus fruits will be your new summer addiction.