In ForBeerLovers we want to discover all the information about theCerex so that you know betterthe history of this brand and why it is one of the most popular in our country.

Information about Cerex beer
Cerex is the name of a brewery in Extremadura that has been producing artisanal beer since 2013, following a traditional method of double fermentation.
In ForBeerLovers we want to give you all the information about Cerex so you can know more about the history of this brand and why it is one of the most popular in our country.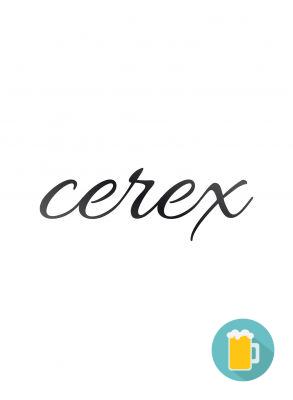 Brand Features
Type: Pilsen
Graduation: 5% alc. Vol.
Brand Ingredients
Cerex is presented as a quality brand and, therefore, it is naturally made with the following ingredients:
Barley malt
Hops
Cherry
Water
Yeast
Nutritional information
If you want to know the nutritional contribution of Cerex and , here we leave you a list with the most outstanding values:
Energy: 140 kcal (per 2 cup)
Fats 0 g
Carbohydrates 10 g
Of which sugars < 0 g
Protein 1 g
Salt < 0.00 g
History of Cerex beer
Cerex is a brand of beer that has its origins in 2013 and was created by Destilados y Cervezas in Extremadura. Its main activity is the production of high-fermentation beer. This is the first brewery in Extremadura since the disappearance of El Águila beer in 1985, after the closure of the Merida brewery.
Awards received
During the first years of the history of Cerex, this renowned beer brand was given a wonderful prize:
Cerex beer has been chosen Best Beer in Spain 2017 by the prestigious jury of the World Beer Awards.
Types of Branded Beers
Within the Cerex brand we find different ranges of beers that are adapted to all types of public. Below, you will find the different types of Cerex currently on the market.
Cerex Pilsen: Blonde beer - 5º
Cerex Ibérica de Bellota: Roasted abbey beer - 6,5º.
Cerex Cherry: Fruity beer - 5º
Cerex Castaña: Special smoked beer with chestnuts - 5º
Cerex Andares: Beer made from acorn-fed Iberian ham - 7º