Information on beer Alhambra Especial
This cevreza has been made with 100% natural raw materials and is a symbol of purity and elegance within the brand. It is a low-fermentation lager with an intense aroma of malt and hops.
At ForBeerLovers we want to give you all the informatio Alhambra Especial n you need to know more about the history of this brand and why it is one of the most popular and consumed globally.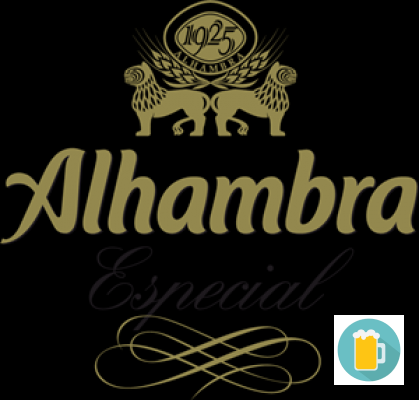 Brand Features
Type: Lager
Graduation: 5.4%.
Brand Ingredients
Alhambra Especial is presented as a quality brand and, therefore, it is made with natural ingredients such as
Water
Hops
Barley malt
Corn
Nutritional information
If you want to know the nutritional contribution of the Alhambra Especial here we leave you a list with the most outstanding values:
Energy: 206 kJ / 49 kcal (per 100 ml)
Fat 0 g
Carbohydrates 4,2 g
Of which sugars < 0,3 g
Protein 0.3 g
Salt < 0,0 g
History of Alhambra beer
We are going to make a brief review of the history of the Alhambra brand so that you can discover the origin of this beer which is so outstanding at a national level.
Although in 1884 there was already a brewery in Granada that was named after the Alhambra, its beginnings as a brand began in 1925. The company came back to life thanks to the initiative of a French/Catalan, a Basque and with the participation of the owner of La Moravia (Carlos Bouvard).
They began to manufacture beer with medicinal water from a water spring and from the Aynadamar canal. The brand was very successful between 1960 and 1980. But twenty years ago it went through a bad period, from which it emerged thanks to a chemist who created the Alhambra Reserva 1925, along with other later creations.
The brand has had many ups and downs over the years. It had to sell part of its stock abroad and even went through a little bump with Heineken.
In 2006, it became part of the Mahou-San Miguel group (another well-known Spanish beer brand). The company concentrates its sales in Eastern Andalusia, although since 2000 it has begun to expand to other Spanish regions.
Types of Beer
Within this subcategory of the beers of the famous and recognized brand Alhambra, we find other beers of the same type with different characteristics. Below we explain the different types of beer Alhambra Especial that exist:
Alhambra Especial Without
A beer must with few fermentable sugars, which minimizes the production of alcohol during fermentation, achieving a beer with a small amount of alcohol (less than 1%) but with an intense flavor.
Alhambra Especial Radler
Alhambra Especial Radler is the result of unexpectedly mixing brewing know-how with the spirit of our Granada origin. Discover this fresh and natural reinterpretation of Radler beers. A unique and different beer with a low alcohol content full of nuances and flavour to be discovered.