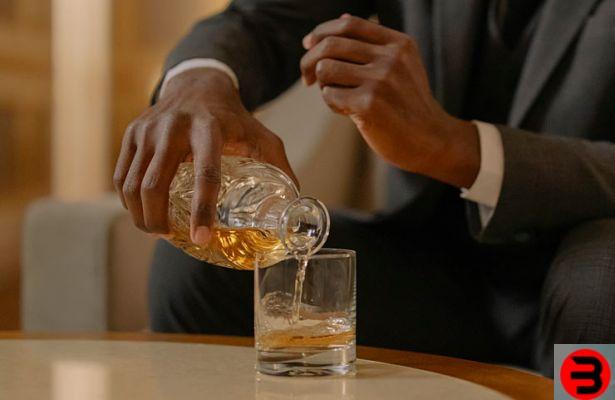 The 9 (+1) best whiskeys with fruit and sherry
Our whiskey suggestions with sherry
Glenfarclas 15 years
The Glenfarclas distillery has been family-run for generations. The whiskeys mature exclusively in sherry casks: the best contacts with the Spanish bodegas guarantee constant supplies of high quality casks. The 15 year old Glenfarclas is released with no added coloring and is not cold filtered, all of their whiskeys have 46% alcohol in the typical bulbous bottle.
The 15-year-old Glenfarclas invites you to enjoy fruity and spicy aromas in the mouth. We taste orange peel, dates and raisins. In addition, notes of chocolate with nuts and a hint of black pepper. The finish is accompanied by complex oak notes, which are well integrated.
Il Glenfarclas 15 years it is one of the best sherry cask whiskeys and convinces with a robust set of different notes, all contributing to the round overall impression of Speyside whiskey. A must try!
Glendronach 12 years
The air in the GlenDronach distillery literally breathes sherry - almost all single malts from the Highland distillery mature partially or completely in Spanish sherry casks. At GlenDronach 12 Years, it is the Pedro Ximénez and Oloroso barrels that give their brand to the whiskey.
In tasting, the 12 year old GlenDronach surprises with an almost sparkling mouthfeel. We taste raisins with dark chocolate, orange marmalade and dried cherries. The sherry sits as an additional layer on top and makes the single malt surprisingly complex for a 12 year bottling.
Il GlenDronach 12 years original is a robust sherry cask whiskey, which can score points in tasting with diverse and well-composed flavors. A great choice for beginners looking for an affordable start into the world of sherry-shaped malts!
Dalmore 15 years
I whisky Dalmore they not only inspire for their exclusive design: they are finely composed Highland whiskeys, characterized by a very well founded selection of casks, they are recognized thanks to the bottles decorated with silver deer antlers.

The 15 year old Dalmore matures for 12 years in American ex-Bourbon barrels and then receives a finish in sherry barrels. Amoroso, Apostoles and Matusalem Oloroso sherry characterize the single malt.
Oak wood and spicy notes of sherry shape the taste of the Dalmore 15 years, otherwise pleasantly soft. There are also beautiful notes of pear, raisins and dark chocolate. The long finish is accompanied by earthy and toasty notes.
The 15 year old Dalmore is very harmoniously and elegantly composed and is one of Scotland's best sherry flavored single malts. In the elaborately designed box, it also impresses as a luxury gift for connoisseurs.
Benromach 15 years old
Where Speyside merges with the wide sandy beaches of the Scottish coast, the Benromach distillery is located in the small town of Forres. Here they deliberately distil a whiskey that is said to have the characteristics of old Speyside malts from the 60s.

The barley is slightly peaty, this means that the 15 year old Benromach is just smoked. It is then stored in a blend of ex bourbon barrels and sherry barrels.
Il Benromach 15 years old it has a full, mature and dry character. Single malt opens up a wide repertoire of woody notes. We taste caramel, toast cubes and some ash. In addition, fruity shades of sherry with berries, which give the whiskey a wonderfully successful complexity.
With full-bodied sherry, spicy wood and subtle smoky notes, the 15 year old Benromach brings a complexity to the glass that invites advanced connoisseurs to ever new tours to discover the world of aromas.
Glenmorangie The Lasanta 12 years
"Lasanta" in Gaelic means "warmth and passion". It is one of the main expressions of the Extra Matured range for Glenmorangie. This single malt whiskey spends its first 10 years in American ex-bourbon oak barrels. After that initial maturation, it finishes its aging in oloroso sherry and Pedro Ximenez barrels.
From the beginning, Glenmorangie Lasanta 12 years old it is floral and fruity. A pastry dream with notes of marzipan, icing sugar and toffee.
On the palate the sensation is creamy, soft and light. Alcohol adds heat in a balanced way with flavor. Slightly sweet, like when you get to the bottom of a cup of coffee where the unsolved sugar is left. The sweetness dissipates and produces baked spices like nutmeg and cinnamon. A juicy orange with a hint of raisins really pops. The finish is extremely soft.
Glenfarclas 21 years
The Glenfarclas distillery in Speyside is known for maturing almost all whiskeys in Spanish sherry casks. With its many years of experience, the distillery has delighted its many admirers for years.
Il Glenfarclas 21 years convinces in tasting with a full-bodied taste. We taste oak, caramel, raspberry and apricot. The sherry notes are complex and accompany the long finish of this fantastic sherry cask whiskey.
21 year old Glenfarclas not only amazes with its complex aromatic range and multifocal flavor, it also does so thanks to its excellent value for money, which ensures that the inclusion of sherry cask whiskey in your collection remains extremely affordable.
Glendronach 15 years
On the nose: huge notes of dried sultanas, dried oranges, tiramisu.
Golden syrup, heather honey, it's really intoxicating stuff. Hazelnut praline, dark chocolate.
In the mouth GlenDronach 15 anni Revival it's big and oily: the lighter end of dried fruit, sultanas and apricots, with a delicious warmth of ginger just below. Sticky salted caramel. Crème brûlée, burnt toffee with some herbaceous notes. The flavors are so well defined, the layers of complexity pleasant and overwhelming. Long and pleasant finish of orange marmalade and cinnamon.
Overall it is a splendid single malt. It really is a delicious whiskey. It is warm, elegant, charming and should appeal to a broad spectrum of drinkers.
Mortlach 16 years old
La Mortlach distillery attempted a luxurious re-brand a few years ago, which failed and are now back to the versions stated for ages: 15, 16, 18, 20 and 26. This whiskey has been aged for 16 years exclusively in sherry casks.
Spicy nose loaded with dried fruit, wood, apple, clove, cinnamon, charred oak, orange, malt - it's so flavorful, like sherry reduced to a syrup with rich notes of oxidized wine, spices, dried fruit and caramel. There is such depth to this whiskey, which makes it fun to smell. Leather, cigars, hazelnut, orange, dry earth, gingerbread.
On the palate, lots of oak and biscuits, vanilla, light tobacco spice, citrus, vanilla pudding, caramel, honey, black tea and with a touch of spice and wood that control the finish, but let's not forget the notes of orange, tobacco, raisins, caramel and antique wooden furniture (a bit like old church pews).
Lagavulin distillers edition
Diageo's Distillers Edition collection features some of the brand's leading distilleries. They are made by taking a basic bottling from the distillery and giving it secondary Sherryo maturation. For the second maturation, bespoke barrels are created with American oak barrels. These barrels are filled with the fortified wine for a month and then discharged to be immediately filled with the whiskey that will benefit by acquiring aromas, flavors and color.
Lagavulin distillers Edition it is crest starting from a classic 16-year Lagavulin to which a double aging in Pedro Ximenez sherry casks has been added. In this way the renowned smoky flavor of Lagavulin 16 is enriched with the intense sweetness of the sherry.
Talisker 40 anni
Talisker 40 Year Old Bodega series, is finished in Amontillado barrels of bodega Delgado Zuleta, one of the oldest and most distinguished sherry producers in the world. Bodega is a series that celebrates Talisker's close relationship with Spanish sherry companies.
The nose is soft and sweet. From the first moment you realize that you have something special in your glass. It surprises me how mango peel, banana and a single maraschino cherry precede the typical maritime notes of the whiskey Talisker. Of course, pepper and peat are there, but very thin.
The body is slightly oily. Nice viscosity. The arrival is soft, then it begins… the tropical fruit evolves towards caramel and toffee, the pepper evolves towards a salty oyster. Then a dying bonfire turns into a delicious, freshly baked apple pie. And it's not over yet. Really very complex. He guides you from a newly polished leather sofa across a rocky shore to a fisherman's boat. It continues to evolve continuously.
On the deliciously long and very soft finish, a little smoked salmon and a leather sofa return, as well as a little banana and mint. But he remains a Talisker in all albeit the sexiest and most elegant there is.
Clearly, it is not a whiskey for everyone, indeed it is a whiskey for a very few (only 2.000 worldwide) lucky and wealthy ...
Interesting facts about sherry cask whiskeys
What types of sherry-flavored whiskeys are there?
There are different approaches for storing single malts in sherry barrels, which lead to different results:
And Sherry whiskey Cask they mature 100% in barrels previously filled with Spanish Jerez wine. The final single malt is then made up of several sherry casks.
The whiskeys finished in sherry casks they usually mature in American ex-bourbon barrels and are then decanted into sherry barrels for a few months or years, thus completing their maturation in ex-sherry barrels.
Single malts matured in parallel they are stored in a mixture of barrels (usually ex-bourbon casks and sherry casks) for the entire maturation period and are only assembled together at the end.
What types of sherry are used for whiskey maturation?
Each type of sherry has its own characteristics which are given to the whiskey matured in the barrels that contained the wine. Every whiskey connoisseur should know these types of sherry:
Oloroso: This sherry comes from the white Palomino Fino grape in an oxidative process. Oloroso sherries are typically full-bodied, flavorful and dry.
Peter Jimenez: this sherry is obtained from the Pedro Ximénez grape. These sherries are sweet and full of flavor. Common flavors are raisins and dried fruit.
Amontillado: these sherries are also made with palomino grapes. They mature first biologically, then oxidatively. The flavors are often strong, spicy and woody.
Not all sherry casks are ex-sherry ...
Although descriptions of Scottish whiskey distilleries often refer to ex-sherry casks: actually most of the casks are not old sherry casks that have been used in bodegas for many decades.
Rather, the sherry casks are specifically made to whiskey makers' specifications and filled with Jerez wine for only a few months.
One reason is that sherry no longer has the same appeal as before. Not enough sherry is consumed for there to be enough barrels available. This is why many Spanish bodegas have switched to the profitable business of simply making sherry casks for the distilleries of Scotch whiskey.