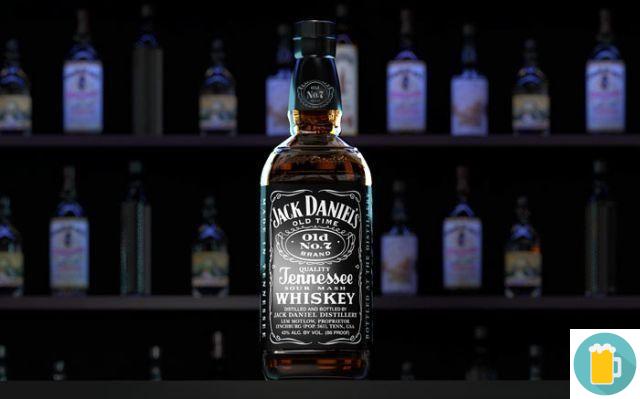 10 things you (maybe) didn't know about Jack Daniel's
Jack Daniel's is the oldest distillery in the United States
Is Jack Daniel's the oldest distillery in the United States? Yes and no. Maker's Mark claims to be the oldest. Many old distilleries were making more before whiskey became popular.

But Jack claims to be thereto oldest registered distillery, having been registered in 1866 (probably) by a teenager Jack Daniel ...
It's a Tennessee whiskey and that's very specific
Jack Daniel's is distilled in a process that gives it the title of whisky del Tennessee, a term recognized by the federal government in 1941, nearly 80 years after Daniel began distilling whiskey.

The process is different from other American whiskeys as the distillate is filtered through layers of sugar maple charcoal. At the distillery, visitors may happen to see huge piles of burnt maple wood.

The whiskey is then filtered through the charcoal for a period of four days, then through the white wool to remove the charcoal.
It is the best-selling American whiskey
In 2014, Jack Daniel's sold nearly $ 3 billion worth of whiskey. Let's talk about 150 million bottles and by Jack Daniel's approx.
Visit there Jack Daniel's distillery
You can buy your own barrel of Jack Daniel's
It's certainly not cheap, but if you want yours Jack Daniel's personal barrel, you can go to the distillery, taste it directly from them, choose your favorite and buy the whole barrel.

If you can't make it to Tennessee, you can still call or email them, let them know your taste preferences and they'll pick a barrel for you (you just have to have it shipped to you…).

It's the perfect Father's Day gift for a dad who has it all, including an incredibly wealthy kid and a place to store a large barrel of whiskey.
There are several types of Jack Daniel's
While Old No. 7 is Jack's most popular and well-known label, there are also other types.

Il Gentleman Jack it is double filtered, compared to the single filtering of n. 7; the Single Barrell, obviously comes from a single barrel without any mixing with others, but it is also with a higher alcohol content; and whiskey with honey and cinnamon they are mixed with honey liqueur and cinnamon liqueur respectively.

Flavored Jacks have a lower alcohol content, due to mixing.

There are also many special and limited edition bottles, including the Sinatra Century produced in honor of the late singer on his XNUMXth birthday because ...
Frank Sinatra's favorite whiskey
Dean Martin once sang: "I love Las Vegas as Sinatra loves Jack Daniel's". It is not a metropolitan myth: Frank Sinatra he loved Tennessee whiskey so much he loved it he was buried with a bottle, along with a Zippo lighter, a pack of Camel cigarettes and 10 cents.

Jack Daniel produced the Sinatra Special and the Century. It appears to have done the same for Motörhead singer Lemmy Kilmister, who has reportedly been drinking one bottle a day for 30 years. Talking about…
Nobody seems to know what number 7 means
When you order Jack at most bars, you are likely to get a shot of Jack Daniel's Old No.7.

The most popular theory regarding the number 7 is that his distillery has been registered as number seven by the government, although this contradicts the first statement at the top of this article.

Others have suggested that it represents his seven mistresses (Daniel has never been married). In any case, many claim to know for sure, but it is still a mystery.
Jack Daniel is not the founder's real name
Jack Daniel was a real boy, but that wasn't his real name.
Jasper Newton Daniel was his real name, but friends and family called him Jack.
He was just a teenager when he first distilled
We find uncertain data in the life of Jack Daniel. While some reports claim he was born in 1850, making him 13 when he bought the distillery and 16 when he registered it, other reports claim his mother died in 1847.

This would make it very difficult for her to have Daniel. Other dates indicated are September 5, 1856 and January 1849. In any case, he was very young when he bought and registered Jack Daniel's distillery.
Jack may have died by kicking his safe
The legend of Jack Daniel's death speaks of his temperament. The company books were locked in a safe, and his nephew, Lem Motlow, was the one who usually opened it.

One morning, Daniel arrived at work early, well before his grandson. He tried to open the safe, but, as usual, he couldn't remember the combination.

Frustrated, kicked the safe, breaking the big toe. This led to a blood infection, years later, in 1911, was the cause of his death.

Before he died, he passed the distillery to Motlow and another grandson, although Motlow ended up taking over the other 50% as well. Motlow died in 1947 and luckily he never changed the name of the distillery to his own.

Because a Lem Motlow doesn't sound quite like Jack Daniel's.