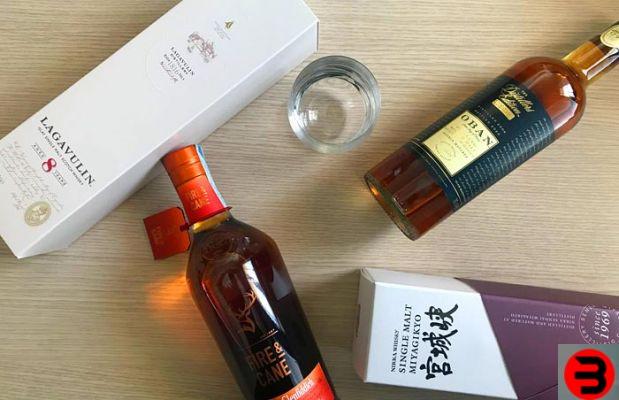 7 underrated whiskeys from renowned distilleries
Laphroaig Quarter Cask
The taste of this scotch whisky it is influenced by its region, just like any other Scotch. Since it comes from Islay, this means it is not immune to the area's distinctive strong, smoky flavor, which many say is the result of its proximity to the sea and exposure to sea winds, as well as the use of local peat.
However, as this whiskey is matured in quarter casks, this gives it a distinctive and surprisingly complex taste which is on par with other whiskeys aged for six or seven years.
In particular, the taste is deeper, woody and stronger than it would otherwise be, without the aid of the smaller barrels. Other tasting notes include smoke, vanilla, peat, spices and a slight sweetness.
Why underestimated: Laphroaig is a very famous Islay distillery, famous for its entry level 10-year Laphroaig, one of the best-selling single malts in Islay and all of Scotland.

As with the Quarter Cask, even NAS whiskeys (without age declaration) can give you great emotions.

This single malt after the classic maturation in ex-bourbon American oak barrels, undergoes a further maturation in "quarters of cask", or 125 liter barrels (much smaller than the standard ones), in this way much more whiskey is direct contact with wood, consequently it matures earlier and with different characteristics.
Nikka Miyagikyo Single Malt No Age
Un Japanese single malt produced by the famous Nikka distillery, the same as the blended "Nikka from the Barrel".

The flavor is sweet, dark chocolate, freshly cut oak and puffs of smoke. The malt remains until the end, as the oak spice pleasantly intensifies. The caramel melts into a wonderful buttery note.

The influences of the sherry cask are very delicate: everything revolves around malted barley and spicy oak spices. When I drink this, I think of the best single malt scotches of old.
Oban Distillers Edition
Oban DE is a single malt whiskey whose peculiarity is the finishing in Montilla Fino sherry barrels.

The oak notes dominate at first, but then the sea rushes back. The brine, hemp rope and a hint of smoke give way to broken peppercorns. Then this Oban gets more earthy, with flavors of heather, honey and almonds.

The Distillers Edition takes the solid foundation of Oban 14 years old and gives it an extra touch. There's quite a bit of complexity here, in Oban's typically understated coastal style. The Montilla Fino cask accentuates the fruity notes of Oban, without ever affecting its maritime charm.
Lagavulin 8 years
Il Lagavulin 8 years is a peaty single malt that is bottled with a strong 48% alcohol content, which should support its intense aromas.

A lot of smoke and earthy-mineral peat meet dark chocolate, sea salt, toasted hazelnuts and bark.

Extremely interesting thanks to intense smoke and notes of peat, it goes full throttle from the first second. This intensity is what makes this bold Islay whiskey so exciting.
Glenfiddich Fire & Cane
This is a single malt from Speyside and is part of the experimental series from Glenfiddich, one of Scotland's premier distilleries.

Although the distillery is famous and prized for producing non-peaty scotch, Fire and Cane is the first whisky Glenfiddich in which there is a peaty malt. It is in fact made by mixing two single malts (peaty and non-peaty) and aged in bourbon barrels and finished in rum barrels.
The nose is lively and a little smoky as expected, but even peat beginners shouldn't be put off, the smoke is barely noticeable.

Notes of red fruit and burnt marshmallows are detectable under the initial push of the smoke, giving the whiskey an immediate sweetness. The palate is fun and unexpected. The texture is creamy and silky, with a bright and citrusy finish.
Caol Ila Moch
Caol Ila Moch is a heavily peated Islay whiskey that does not carry an indication of age. This whiskey has rough smoke and peat aromas its main distinguishing feature. All this is amplified by the classic preservation in ex Bourbon barrels.

For this whiskey the road is all uphill, being part of the same "stable" as a great classic like Caol Ila 12 years, appreciated by scotch connoisseurs and beginners.

Moch is a more "advanced" whiskey compared to the 12 year old, a product capable of giving more engaging sensations especially for a more expert audience who can find intense mineral notes of peat in this whiksy.