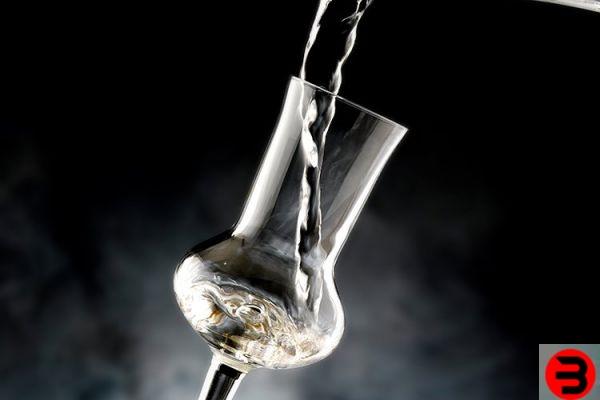 Finding the best Grappa is not such a simple thing: if you believe that the Grappa is an outdated liqueur, appreciated above all by grandparents, do you not know that it is instead one of the most refined and complex spirits, appreciated by mixologists who are proposing new unsuspected and very pleasant cocktails.
But if you have come this far, it is because you are looking for the best Grappa… and therefore you are a connoisseur.
Best Grappa - Comparative price table
There is little to say. Good and first-rate things cost a lot.
We have also indicated the price in euros per liter, so that the size of the bottle does not make the calculation difficult.
What is Grappa?
Let's go in order: Grappa is a distillate produced exclusively in Italy, with Italian pomace, which must not be allowed to age, as it is mandatory, according to the law, for other well-known spirits.
To have a quality grappa it is essential that the pomace are perfectly sleigh and, at the time of their processing, they are still rich in juice of departure.
La marc it is the part of the grape that remains after pressing and consists of the skin and seeds.
The characteristics of the pomace depend:
from the vine
the degree of ripeness of the grapes at the time of harvest
from fermentation techniques
from the time interval that passes from harvest: only a few hours of delay can compromise the validity of the finished product
from the methods of harvesting itself, before starting the distillation
Only a few hours of delay can be enough to jeopardize the finished product.
The unfermented pomace is separated directly from the must and placed in sterile steel tanks, under vacuum, to avoid unwanted alterations and fermentations.
Le fermented pomace, obtained from red vinification, they are separated from the wine and placed as soon as possible in an alembic, where their alcoholic and aromatic components will be squeezed.
- stills the most widely used are those keep going because they can process about 200 quintals of pomace whose alcohols are directed into the distillation columns.
The stills discontinuous, more suitable for processing small quantities, can be either with direct fire, where the boiler is in direct contact with the fire, or in a water bath, where a cavity containing water separates the flames from the fermented product, or with steam, produced by an external generator and brought inside by small pipes.
Il distillate obtained must have a content in alcohol less than 86%, but generally it remains between 70-75%, especially if discontinuous devices are used.
A few words about distillation
Distillation is one of the fundamental processing systems concerning food. To understand its importance I want to quote the quote from Sandro Sangiorgi who, in a very interesting number of Porthos a few years ago, quotes Dioscorides Pedanio, military physician and botanist at the time of Nero:
"Distilling is imitating the sun, which evaporates from the earth's waters and sends them back to rain"
In his time, alcohol was not yet associated with the use of the still, but the purpose was already very clear: to pursue the myth of PURITY.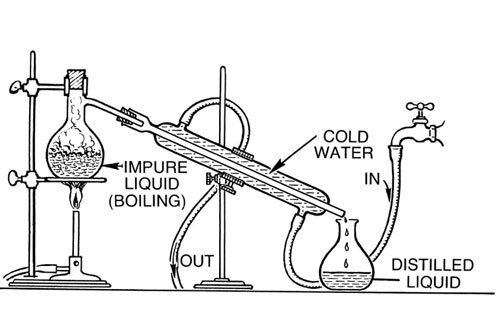 How many types of Grappa are there?
Based on the grape variety
There are many types of grappa on the market, classified according to different parameters. The first element that differentiates a grappa is the grape variety, which allows us to recognize if it is a Single-variety Grappa, that is, obtained from pomace coming at least for 85% of a single variety of vine.
Typical Geographical Indication Criterion
A Grappa can then be classified according to the area of ​​origin, for which the DPR 297/97 has recognized six Typical Geographical Indications: Piedmont, Lombardy, Trentino, Alto Adige, Veneto and Friuli.
The minimum quantity of alcohol in Grappa is 37,5%, while that of Grappa with Typical Geographical Indication is 40%.
Based on the age of the Grappa
On the basis of aging, Grappas can be divided into old is aged, if the maturation period was at least one year in wooden containers, in reserves and ages if it has been at least 18 months, always in wooden containers.
However, 90% of the grappas consumed are young, white and soft, enjoyed by 30% of the population on a regular basis. But in recent years, according to the Institute for the Protection of Grappa Trentina, there is a strong interest of women and young people for this distillate, in particular for aged grappas, however, because they appreciate its persistent aromatic aftertaste.
Difference between aromatic grappas and flavored grappas
There are also Grappas on the market aromatic, obtained from grapes such as muscat and malvasia, while to those flavored essences, aromatic herbs, fruits, flowers and more have been added, all elements that modify aromas and flavors.
The digestibility of distillates
From the interview with Capovilla: "I would like to focus on the digestibility of spirits: grappa, despite what you think, is not a digestive. Alcohol in itself facilitates the opening of the pylorus, so it has its own digestive function. It is the different approach to tasting that makes the difference: a noble distillate, of any raw material, must be sipped and taken slowly "
Alcohol, however, engages the liver, so the advantage you get on the one hand, you lose on the other.
It's true! In fact, fruit distillate is a good digestive which, if it does not contain sugars or other exogenous elements, is not too alcoholic.
The combination of the best grappa
Depending on the type, grappa finds the perfect match with spice or chocolate-based desserts (my combination of Grappa favorite is col dark chocolate) if aged in cask.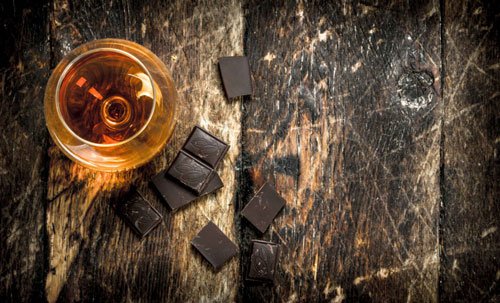 Alternatively with fruit-based desserts and semifreddo, in the case of aromatic herbs. There are those who gladly combine it with artisan panettone or shortcrust biscuits with candied fruit.
Ranking of the best Grappas
Best Grappa: a long tradition ...
6) Berta Piasì Grappa di Brachetto 0,70 lt

The Berta generation began its history dealing with spirits from 1866, until in 1947 he founded his real distillery in Asti and has remained in the hands of the Berti family for all the years, until today, with the 4th generation.
At the end of the 2nd World War, when everything was in crisis, in order not to sell off, Paolo Berta tried to preserve his grappa production in wooden barrels, giving rise to a brilliant and very fruitful tradition economically, later imitated by other producers , when it became clear that aged grappa was highly appreciated by consumers.
The Berta family, from generation to generation, have always stood out for the need to improve their products to make them better and better, using raw materials of the highest quality.
La Berta Piasì is a grappa obtained from Brachetto pomace, a native vine cultivated in the Asti area, which gives rise to a soft and delicate wine, whose characteristics are found in the grappa.
The pomace is stored fresh in food containers and, thanks to a small relief valve that allows the carbon dioxide to escape, they can ferment while remaining very fresh. Then the pomace is distilled in copper steam boilers, with the discontinuous method. The grappa is then placed in stainless steel containers, then left to age for 12 months in oak barrels, placed in underground storage.
Description of the Grappa Piasì
It is a grappa with an alcohol content of 40%, in a 70 cl bottle
Appearance: amber yellow color
Bouquet: decisive and elegant, with floral notes
Palate: soft and soft aroma, with notes of rose and vanilla, typical of Brachetto.
Why I recommend it
For the soft and elegant flavor, pleasant as after dinner in company, but also sipped alone, in peace and relaxation.
For the seriousness and prestige of the Berti distillery, a guarantee of experience and quality.
For the excellent quality / price ratio
Berta Piasì Grappa di Brachetto 0,70 lt - Price: 25,90 euro - Discount (15%) - Price: € 21,90 (€ 31,29 / l)
Best Grappa: super awarded!
5) Sibona - Grappa Riserva, 40% Vol, 500ml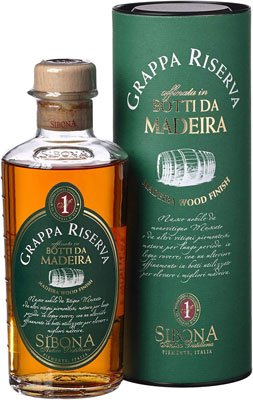 La Sibona distillery was born about 100 years ago in Alba, in an area of ​​Piedmont rich in noble vines such as Nebbiolo (from which Barolo and Barbaresco are obtained) and those of Barbera, Dolcetto, Moscato, Chardonnay and Brachetto.
Sibona has obtained the distillation license n. 1, issued by UTF, the financial body that supervises the distilleries.
Sibona defines itself as an "artisan company", with the production of single-variety grappa, through the distillation of fresh pomace, just brought to the distillery, to preserve its aromas and aromas.
In 2018 and 2019 Sibona was awarded the distillery certificate of the year by the Meiningers International Spirits Award, as proof of the excellent quality of its products.
The Gran Riserva is a multi-variety grappa, in which the pomace comes from Moscato and other Piedmontese vines. After a careful selection of the best pomace used, the product is processed in copper stills, thanks to the experience of expert oenologists.
The refinement takes place in stainless steel tanks. Thereafter the distillate is aged for 2 years in oak barrels and for the last 24 months in barrels that have contained Madeira.
Madera is a fortified and strong Portuguese wine, because it can withstand very high temperatures, improving its characteristics and flavor.
These characteristics, of course, pass into the distillate that matures in these barrels.
The alcohol content is 44% and the packaging is refined, with a graduated bottle (protected by a patent) to indicate its content, as was the case in the containers of the old herbal shops.
How does Sibona Reserve look like?
Appearance: amber
Smell: light scent of peach blossom combined with hints of orange
Palate: rich flavor that leaves a floral taste
Why I recommend it
It is an elegant, engaging and aromatic grappa.
Its gradation is neutralized on the palate by the softness of the distillate.
The careful packaging makes it perfect for a classy gift.
The report quality / price is certainly excellent.
Sibona - Grappa Riserva, 40% Vol, 500ml - Price: 29,50 euros - Discount (20%) - Price: € 23,50 (€ 47,00 / l)
Best Grappa: Amarone grape
4) Grappa Of Amarone Barrique - Bonollo
Bonollo Of was born and takes its name from 100% Amarone della Valpolicella pomace, taken from Corvina, Corvinone and Rondinella grapes. It is then aged for 18 months in French oak barrels, from which it acquires the typical amber color and the characteristic aroma of caramel and vanilla.
The Bonollo distillery claims ownership of the distillery for four generations, since 1908, always family-owned, acquiring more and more experience, to add to the tradition.
The package, in one refined opaque black box, is enriched by an elegant copper foil, with the word OF, which brings to mind the ancient stills in which the first brandies were distilled.
Description of the Bonollo Of grappa
It is offered in 70 cl format, with 41% alcohol content
Appearance: golden amber
Smell: vanilla, spice, licorice
Palate: rich, warm flavor, full of sensations.
Why I recommend it
Bonollo OF is a particularly soft, smooth and mature grappa.
It is appreciated at the end of a meal, alone or in company: for true connoisseurs
It is very suitable as a gift, thanks also to its elegant packaging.
Grappa Of Amarone Barrique - Bonollo - Price: 49,00 euro - Discount (11%) - Price: 43,45 euros (62,07 € / l)
Best Grappa: Monovitigno, for the new generation
3) Mazzetti d'Altavilla 7.0 Grappa di Ruche 'Aged in Barriques - 700 ml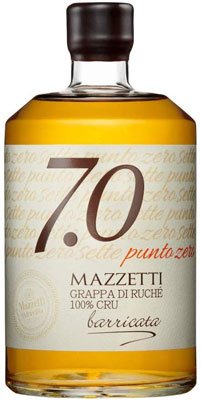 Mazzetti: a distillery founded in 1846 in Piedmont and permanently located by the founder's son in Altavilla Monferrato, where it still exists today. Even the Mazzetti family has remained the owner of the company for many generations, up to the 7th, in fact.
La Grappa Mazzetti 7.0, monovitigno, was proposed on the occasion of the 170th anniversary of the company and was created with particular attention to the young, their alcoholic tastes and their low environmental impact choices.
The vine Hive, from which the fresh and moist pomace used for this grappa comes, is native and rather rare: it produces very few bright red grapes, very sugary, to obtain an aromatic wine, rich in polyphenols and tannins, which became DOCG in 2010.
It should be noted that the distance between the cellars and the distillery is just 10 Km: we can therefore speak of Km Zero, as it is Zero environmental impact, thanks to the use of renewable energy sources.
The alcohol content of Grappa Mazzetti 7.0 is of 43% and it is an excellent product that is distilled for 1 year in steel.
How it looks
Appearance it is golden
Smell: very intoxicating perfume, in which floral and fruity notes of violets, jasmine and cedar emerge
Palate: soft and velvety, slightly sweet despite 43 °, transmits a delicate honey flavor, mixed with a hint of spices and almonds.
Finish: persistent for a long time
Why I recommend it
Bunches 7.0 is a grappa rich in aromas, with a persistent flavor, made with modern technology, environmentally friendly, which respects the environment.
The Ruché grape from which it comes is precious and rare and its characteristics are transmitted on the grappa.
Pakaging is modern, without straying too far from traditional products and also looks really good as a gift.
Its characteristics make it an excellent distillate, to be consumed even during summer season, after a meal, or in winter in front of the fireplace.
Mazzetti d'Altavilla 7.0 Grappa di Ruche 'Aged in Barriques - 700 ml - Price: 36,00 euro - Discount (11%) - Price: 32,00 euros (45,71 € / l)
Best Grappa: Superior category, soft and aromatic
2) Poli Sassicaia Grappa 500ml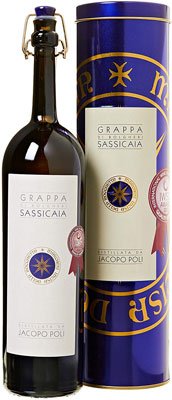 GioBatta Poli, the founder, set up his distillery in 1898 in Schiavon, near Bassano del Grappa, in Veneto, region very rich in grappa production. Poli has also worked hard to build the first Grappa Museum, in Bassano, in front of the famous Ponte Vecchio.
La Sassicaia grappa takes its raw materials, the marc, in Tuscany near Livorno, with 80% Cabernet Sauvignon and 20% Cabernet Franc from the S. Guido di Bolgheri estate.
The pomace of Sassicaia is left to ferment in their must, then they are transported to the distillery and processed immediately in ancient copper stills in steam-powered boilers, in a discontinuous cycle. Poli defines itself as an "artisan distillery" because it is processed in small batches.
The resulting product is stored for 4 years in barrique and in the last 6 months in oak barrels in which the Sassicaia wine was previously deposited, from which it receives aromas and fragrances, which are then conferred to the grappa itself.
How it looks
Appearance straw yellow
Smell: fresh scent of cut flowers followed by a note of dried fruit which also leaves a faint scent of coffee.
Palate: Flavor of wine, cherries and toasted almonds, in a well blended and tantalizing mix
Final: long, persistent and engaging
It is a grappa with an alcohol by volume of 40%, in a bottle of 50 cl.
Why I recommend it
Poli Sassicaia it is a grappa of particular, superior quality, which stands out for the preciousness of the pomace, for the particular distillation technique and for the perfumed barrels in which it is aged.
It is recommended for important occasions: excellent to serve also as a conclusion to a meal with panettone.
It is sold with an elegant package, in a silk-screened metal tube: perfect for a prestigious gift.
It is an intriguing and well-structured distillate, excellent to sip calmly, tasting every little sip, relaxed and in peace, for meditation, in fact.
Poli Sassicaia Grappa 500ml - Price: 76,00 euro - Discount (18%) - Price: € 62,10 (€ 124,20 / l)
Best Grappa: the TOP of the TOP
1) Grappa Capovilla Amarone Wood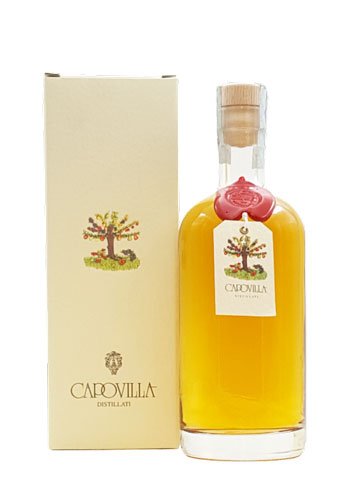 The Grappa of Amarone in Capovilla wood it is absolutely one of our favorites. It is refined in taste and very particular in the production process.
The latter is the result of a way of producing Grappa that comes from afar and evolves thanks to the experience of the numerous trips made by the owner of the distillery, Vittorio Capovilla: the search for new frontiers led him to experiment already in the 70s of ways of producing grappa other than home-made ones.
Then you will already know that Capovilla is famous not only for the production of high quality Grappa, but for its ability to create unique fruit distillates in the world.
At the center of Capovilla's work is the raw material, and this is the most important thing.
"If I start from an exceptional raw material, the only risk is to ruin it… all things considered, I don't invent anything. - says Vittorio Capovilla - The first real and great job is to produce or go in search of best raw materials. "
La Grappa of Amarone Capovilla wood comes from the pomace of Corvinia, a vine typical of Veronese, in particular of Valpolicella, with an intense and spicy aroma. The pomace, chosen with obsessive care by Vittorio Capovilla, must be completely healthy and must not have undergone chemical treatments. They are then distilled in a discontinuous cycle in a water bath.
The distillate is then left to age, for about four years in oak, ash, cherry, black locust barrels, to enhance and make more complex the intrinsic qualities of the product itself.
Description
Grappa di Amarone legno is excellent right from the start, with an alcohol content of 41%
Il colore it is transparent
Il perfume it is intense and enveloping, with notes of cherries and violets
Il taste it is balanced and very persistent.
Why I recommend it
Amarone Capovilla grappa is a prestigious and particularly elegant distillate.
It is a grappa of absolute authenticity
The flavor is particular and different, as if the palate tasted the various components individually.
Vittorio Capovilla is IL master in the art of distillation: any fruit or wine in his hands becomes exceptional.
It is a grappa studied in all the steps with care, competence and dedication, with the aim of producing a perfect distillate.
Grappa Capovilla Amarone Wood - Price: 69,00 euro - Discount (2%) - Price: 67,85 euros (135,70 € / l)
Capovilla Grappa of Bassano 41%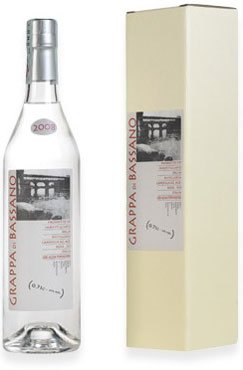 The Capovilla of Bassano is a classic grappa, obtained from a skilful mix of red wines for 80% (Merlot and Cabernet), coming from the Bassano area and 30% from white wine, Tokay, a sweet, special wine, originally from Europe Oriental.
The distillate rests for 2 years in stainless steel containers and then is diluted with water very pure obtained from the Grappa massif, in the Belluno area, free of heavy metals and bacteriologically perfect. It is transported to the distillery in a tank, perfect for dilution. Capovilla never leaves any passage to chance!
It is a dry but extremely pleasant grappa palate: feel a pleasant fruity flavor of grapes, pears and almonds. The finish is medium in length, with notes of fruit and grass.
Capovilla Grappa di Bassano 41% - Price: 39,00 euro - Discount (10%) - Price: € 35,00 (€ 70,00 / l)
But that's not all. There are other Grappas of Capovilla that drive me crazy, one of these, very difficult to find available, is Grappa Tabacco
Grappa Capovilla Tobacco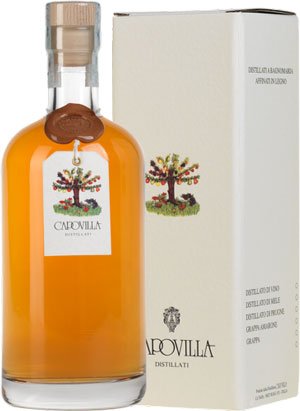 Grappa di Tabacco was born almost "by chance" in '74, when Capovilla began to deal with machinery for winemaking.
Added to this is the experience acquired from a series of trips abroad: in Switzerland, Germany and Austria, Capovilla where he discovers a completely different wine culture from that present in Italy up to those years.
In fact, at that time in Italy distillates were produced at home, with all the risks involved ...
Grappa di Tabacco is a distillate only: Capovilla thought this taking into account that tobacco has toxic supplies, such as alkaloids and nicotine.
Regarding brewing, time, manner and subsequent double distillation are part of a wisely studied process.
The Capovilla Grappa di Tabacco is intense and exciting and reveals immediately all the refinement of tobacco.
It is a unique experience, lovers of good Grappa must absolutely try it at least once in their life. Unfortunately, especially at certain times of the year it is very difficult to find available. We managed to find a bottle, ok I realize it's not cheap, but it was worth it.
Grappa Capovilla Tabacco - Price: 95,00 euro - Discount (5%) - Price: € 90,50 (€ 181,00 / l)