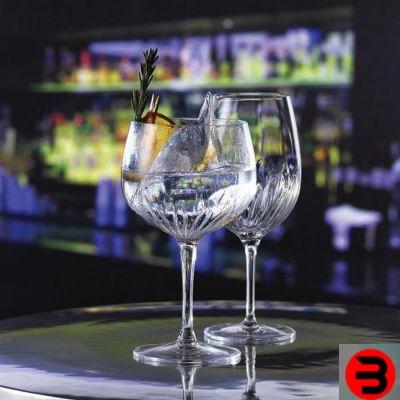 If you like to have a good drink while meeting friends or want to relax after a long day at work why not try a classic, but different drink: gin?
Gin is never the same: every time you can find something special and unusual, rare and unexpected.
Origin of gin
The first Gin recipe was created in the Netherlands in the 17th century, when the distilled drink with the taste of juniper berries (Juniperus Communis) was used as an alternative formula to diuretic drugs to treat kidney disease.
The oldest brand of gin is called Bols, founded by Lucas Bols in 1575 in the Netherlands. Many other famous brands were created later, such as Wenneker, Booth or Gordon, all Dutch. But gin only really became popular when it spread to England and its production became more and more accurate and meticulous.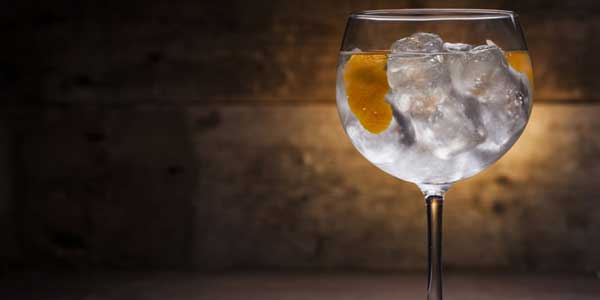 Just think that the same English king William 3rd, who was originally from the Netherlands, banned its production in England in 1689 to promote its sale in Nederland.
At the end of the 17th century the British government tried to curb the consumption of gin which was really exaggerated: they consumed 3 liters per person in a week. The state intervened with prohibitive taxes and licenses, which led the people to produce their own spirits in secret, in often precarious hygienic conditions. They even used the bathtubs as stills to distill harmful substances such as cyanide or turpentine, often hidden underground.
This drink became very popular in England with the variety known as London dry or London Gin, with recognized brands such as Gordon O Tanqueray.
Gin is the result of the distillation of ethyl alcohol together with the juniper berries that flavor it and to which it owes its name.
Very important in its elaboration are the elements botanists which provide the nuances of smell and taste so appreciated in tasting and can be fruit, vegetables or spices: oranges, lemon, iris, licorice, coriander, almond, angelica , in addition to juniper, they are just some of the most used.
Why is tonic water added to Gin?
The custom of adding tonic water to Gin dates back to the time of the English colonization in the Indies (1757-1947): soldiers were forced to ingest a potion of quinine a day, to protect themselves from malaria. Quinine, which was made from the bark of the Cinchona tree, was capable of counteract fever intermittent and the malaise caused by malaria, but it was very bitter. To make this drug more pleasant, they began to add alcohol and other drinks, preferably Gin, which was very popular with soldiers and then exported to their homeland.
Lemon, rich in Vitamin C, was also used for a long time by English sailors to avoid scurvy.
Il Gin Tonic
Hence the birth of the Gin Tonic: ice, tonic water (which contains a small amount of quinine), a slice of lemon and juniper berries, a drink enjoyed and consumed all over the planet.
Gin Tonic ingredients
I drank the best Gin Tonic of my life in a place whose name unfortunately I don't remember in Dubai.
4/10 of gin (if you can go down to 2-3 / 10 for an aperitif)
6/10 of tonic water
1 slice of lemon (juice and / or slice of lemon according to taste)
ice
optional: 2 slices of cucumber or juniper berries or 2 drops of Angostura
Note the lemon juice makes the result more cloudy, so some people prefer to use tonic water that is already lemonade.
In terms of tonic water there are many brands that I can recommend to you such as the famous Schweppes, Lurisia, Recoaro.
If you are interested, however, one of the tonic waters best ever for this cocktail is the Fever-Tree Premium Indian Tonic Water. There are also equally valid lemon or classic versions that you can find online or in specialized stores.

Fever-tree Premium Indian Tonic Water glass bottles - Price: 40,00 euro - Discount (2%) - Price: 39,00 euros
Another very interesting tonic water is Erasmus
Types of Gin
There are currently only 4 types of Gin recognized by the European Union:
London Dry Gin
In the 80s, people who distilled sugar-free gin called this drink dry gin, in contrast to the fame that its sugary version was gaining. As most of these dry gin producers were in London, it was eventually called London dry or London Gin. Distillers cannot add more than 0,1g. of sugar per liter after distillation; it also needs to be 70% distilled without adding artificial flavors or colors. It is one of the most popular drinks in Great Britain
Distilled Gin
Distilled gin is produced in a very similar way to London Gin: the main difference is that the flavors can be incorporated after distillation and they can be natural or artificial.
The end result can be completed by adding sweeteners and other additives that can flavor or color the gin.
Purists argue that if you want to make gin right, this is the best way.
The first step in obtaining this type of gin is to distil the fermented water or a neutral liquid such as vodka once to which juniper and other herbal ingredients are added. Keep in mind that it is necessary to add the right amount of these ingredients so that, when boiled in the still, their essence is extracted, suspending the mixture in a basket and letting the steam escape.
So, just before bottling, water must be added to cut the mixture at the right time. It is a much more practical and slow process, although it is worth it because the feeling this gin leaves in the mouth is better than other types of gin.
Classic Gin
Classic Gin corresponds to well-known brands such as Gordon, Beefeater, Tanqueray and should not be confused with London dry because it refers to a process, not a style. Traditional Gin has a much purer and more decisive juniper flavor.
Gin flavored distillates
These are gin flavored drinks:
Playmouth Gin: it is the least dry variety of the London dry which is produced in the city of the same name (England). It is characterized by having a more earthy flavor, with soft notes of juniper.
Genever
Genever o Dutch Gin is very different in color and flavor to other varieties. Unlike other gins, which are made with a combination of cereal grains, Genever is made with a base of malt grains, which give it a darker color and an intense flavor, similar to that of whiskey, but lighter. Recently this gin has become very fashionable because it is used in creative cocktails, but you can also consume it directly or with ice. The best known brand is Bols Genever.
Old Tom Gin
Old Tom Gin (or Tom Gin or Old Tom) is a gin recipe popular in 18th century England. In modern times, it has become rare, but has experienced a renaissance in the "Craft Cocktail" movement. IS slightly sweeter than London Dry, but a little drier than Dutch Genever, so it is sometimes called the missing link.
The name Old Tom Gin presumably derives from wooden plaques in the shape of a black cat (an "Old Tom") mounted on the exterior wall of some pubs above a public walkway in XNUMXth century England. Under the cat's paw mark was a slot for putting money and a lead pipe from which came a glass of gin, poured by the bartender inside the pub.
Old Tom Gin was recently relaunched by the Hayman distillery based on an original recipe and is mentioned in Bartender's Guide of 1887: "How to mix all kinds of drinks in a simple and imaginative way" where Jerry Thomas created his famous cocktail called Martinez, a prestigious and unbeatable recipe, for the harmony of flavors and sweetness of aromas.
Best Gin - Comparative Price Table
There is little to say. Good and first-rate things cost a lot.
We have also indicated the price in euros per liter, so that the bottle size does not make the calculation complicated, so you can easily compare the cost per liter.
Ranking of the best Gin
So let's take a look at the ranking of the best Gin available on the market. However, we are very interested in your opinion and the products you have tasted. We would be delighted to comment with your favorite Gins!
Best Gin: the cheapest
8) Bombay Sapphire London Dry Gin

Bombay Sapphire is a London Dry Gin with a very ancient history: it dates back to the period of British colonization in India and takes its name from a 182 carat sapphire, the Bombay star.
The production process of this Premium Gin, which takes place in London, differs from the others especially in the moment of distillation. The technicians, using 3 very rare "CarterHead" copper stills in which the aromas of the 10 botanicals, located in perforated cells, are extracted above the alcoholic tank, therefore without infusion.
To reduce the alcohol content, up to 40%, water from Lake Vymwy is used.
Thanks to this distillation technique, the color of Gin Bombay Sapphire is crystalline and transparent.
The 10 ingredients, perfectly and secretly balanced, are sought after choosing the best qualities from all over the world: almonds and lemons from Spain, licorice from China, juniper berries and iris roots from Italy.
You get a soft, fresh, aromatic gin, not aggressive at all, excellent from pure drink, as a digestive. If you are looking for a meditation drink it is perfect, but also an incredible strong taste also like Gin Fizz.
I remind you that the bottle is 100 cl, with an excellent quality / price ratio.
Bombay Sapphire London Dry Gin - Price: 18,50 euro - Discount (4%) - Price: € 17,80 (€ 17,80 / l)
Best Gin: 100% Tuscan
7) Ginepraio – 500 ml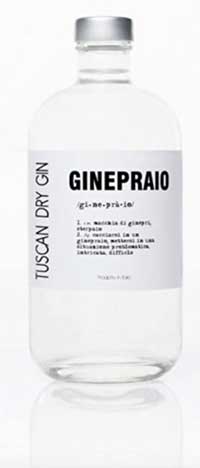 I love Ginepraio's label and packaging, brilliant! I want to copy it here ...
//gi.ne.prà.io/
GINEPRAIO in Italian literally means "juniper scrub, underbrush".
It is the intertwining of juniper plants from which the Berries are harvested, the main ingredient in the production of Gin. In Tuscany the word GINEPRAIO also takes on the metaphorical meaning "get into a tangle", That is, to put oneself in a difficult or complicated situation.
Ginepraio is an excellent 100% made in Italy Gin from three different types of berries: Coast, Chianti e Valtiberina contraded by terrain, climate and altitude, which characterize the terroir.
The organoleptic characteristics are marked, rich in the scents of the sea, the aromas of the hills and the impetuous taste of the volcanic lands.
Ginepraio is a unique blend of its kind, which you immediately recognize thanks to these characteristics. It has won numerous international awards and I tell you that even in this case Italy manages to defend its style and taste.
Two words about the tasting of this gin: Ginepraio is limpid like any excellent London Dry Gin, it will amaze you with a marked hint of wild juniper which is however quickly softened by the rosehip and the herbaceous hints of helichrysum.
In the mouth the juniper explodes with the addition of the rose and the balsamic note of the helichrysum. In a moment the spiciness of coriander arrives on the palate which fades into a persistent finish of slightly citrus notes.
Finally, the distillation takes place at low temperature by means of a discontinuous copper alembic still. They follow the two months of rest before bottling.
Ginepraio - 500 ml - Price: 50,47 euro - Discount (31%) - Price: € 34,65 (€ 69,30 / l)
Best Gin: the most elegant and balanced
6) Chase Distillery Williams Elegant 48 Gin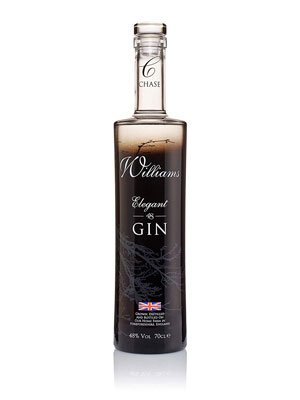 Williams Elegant 48 is an English gin produced in the West Midlands, at the Chase Distillery, the same company that produces the potato vodka that in 2010 won the award for "best vodka in the world"
Williams Elegant is the first and only gin to be made by distilling organic apples grown on the same Chase farm, a complex of nearly 2 hectares planted with organic apples, potatoes, fruit and wild herbs. It is interesting to remember that to produce 1000 l. of alcohol serve 16 tons of apples.
La Chase distillery was built in 2007 and is located in an old barn surrounded by about 2 hectares of potato fields, apple orchards and Herefordshire cattle. The quality of these products is recognized worldwide.
Fresh apples are cut into eighths and mashed: the juice is fermented to make cider, which is later distilled to make gin.
At this point Chase dilutes the apple spirit with the purest water from the farm's well.
There are 11 main botanicals used in the production of Williams Elegant 48: juniper, elderflower, organic apples, angelica roots, orange peel and lemons, to which are added 37 secret wild botanicals, produced in the farm meadows, up to no.48
The number was added in 2016/17 and is meant to remind you that 48 it is also the traditional and rare apple varieties that are pressed and fermented to create the cider, which will be distilled in the great column of Chase, and which the gin is bottled at around 48%.
The precious should also be appreciated bottle of design, which contains 700 ml of gin.
You get a fresh gin, soft fruity, non-invasive, excellent to drink pure, or, at best, with ice.
Chase Distillery Williams Elegant 48 Gin - Price: 64,00 euro - Discount (2%) - Price: € 62,91 (€ 89,87 / l)
Best Gin: aromatic and intriguing profile
5) Z44 Gin Roner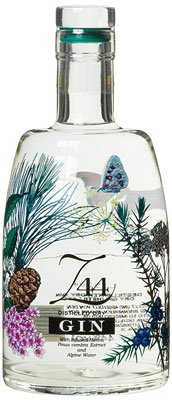 Z44 Roner is the gin dell'South Tyrol, near Termeno, on the slopes of Corno Bianco, whose complex and unusual characteristics make it a particularly intriguing gin.
The name Z derived from Stone pine, Swiss pine in German, the long-lived Swiss stone pine, whose pine cones take 2 years to mature and reach the best quality and are laboriously harvested by hand (for the inaccessible areas where the tree grows) every other year. 44 refers to the alcohol content.
Le pine cones, harvested in summer, they are then broken and subjected to maceration for 3 weeks in alcohol. The extract is distilled in a small alembic: the essence thus obtained presents fresh, resinous and mentholated notes. THE botanicals, including gentian and violet roots, juniper and oranges, are cold macerated for 12 hours and then delicately distilled in a small copper alembic and added to the essence of the pine cones to obtain a gin with a unique flavor.
Runer Distillery, born at the end of the 2nd World War, is recognized as the best fruit liqueur distiller in the world.
The Roner family aims to preserve tradition, albeit with the use of new technologies, and undertakes the commitment to respect the environment, sensing responsibility towards future generations.
Also characteristic is the bottle, whose drawings could be collected in a botany book.
Il colore it is bright and clear, with an interesting and unusual aroma and flavor: if you pour Gin Z44 into a glass and let it rest for half an hour, every 5 m. you will smell some different scent.
Al perfume pungent of juniper and pine nuts, fruity notes of citrus take over: all these flavors are also present in the mouth, where spicy notes also emerge.
Z44 Gin Roner is a Alpine Gin received several awards (gold) in 2018 including World Spirits Award and others.
Ideal pure or in any form of cocktail, as a digestive or as a meditation. Special.
Z44 Gin Roner - Price: 57,66 euro - Discount (15%) - Price: € 46,50 (€ 66,43 / l)
Best Gin: salty, intriguing gin
4) First Gin with Romagna salt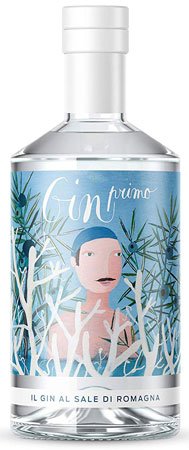 The Gin Primo Sale of Romagna it is a distillate that amazes you for the salty approach with which it presents itself.
It is the first Gin Romagnolo, hence the name, created a few years ago, and it is the first on the market enriched with Cervia salt: it is known that Cervia salt is a sweet salt because it has no bitter chlorides and is an integral sea salt , devoid of any refining process.
In addition to sale, this gin contains Juniper, coming from Tuscany, because it is better than the Romagna and among the best in the world. Botanics include lavender, Santolina, which provides a bitter note to gin, and luigia herb, to give a clumpy touch (in Romagna there are no oranges).
It was created by leaving the separate botanicals in cold infusion. The distillation also takes place by single botany, in discontinuous copper stills, to later combine the results with wise proportion. Salt has been added to the water with which the Gin is brought to gradation.
The packaging is also interesting and unusual for a bottle of Gin:
it was produced in watercolor by a local artist.
Conclusion:
It is a gin that literally leaves you speechless, because the first taste you feel is of salt, but after a moment with the scents of juniper, lavender and Luigia grass, fresh and aromatic. The perfume it is pungent, enhanced by lavender, citrus and pepper. The flavor it is hot, spicy and salty, but after the first sip more delicate flavors emerge, but always clear and definitive. There persistence it is very long.
Gin Primo with Romagna salt - Price: 49,90 euro - Discount (15%) - Price: € 42,21 (€ 60,30 / l)
Best Gin: intense and refreshing, even for novices
3) Hendrick'S Gin ml 700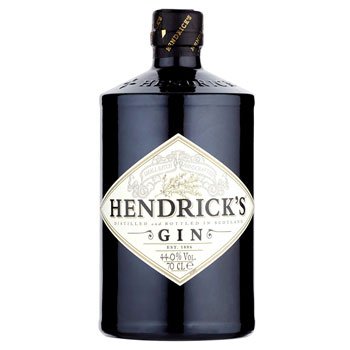 Hendrick'S it's a London dry Gin produced in Scotland, in an artisanal way with a very careful and limited production. It was defined by the Wall Street Journal as "the best gin in the world", so much so that in 2010 it was awarded the silver medal at the International Wine Competition.
It is enriched with 12 botanics among which the cucumber and Bulgarian rose petals stand out, with their typical, delicate scent of roses, with hints of citrus and hints of aromatic herbs.
Conclusion
Il perfume it is fresh citrus, combined with cucumber and a subtle fragrance of roses.
Il taste it is soft and harmonious: the cucumber flavor softens that of juniper, more intense and aggressive.
Il final it is persistent and sweet overall.
It is a classic gin, full-bodied, but pleasant even with its 44 °, which does not prevent it from being a meditation distillate, also suitable for novices.
Excellent on the rock's or with tonic water, to highlight the taste of cucumber.
Hendrick'S Gin ml.700 - Price: 37,60 euro - Discount (20%) - Price: 29,90 euros (44,71 € / l)
Best Gin: the most aromatic and elegant
2) Gin Monkey 47 500 ml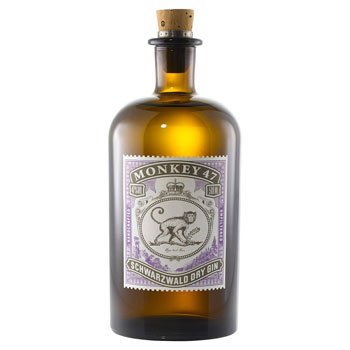 Gin Monkey 47 was born in 1950 in a former mill in the Black Forest, in Germany, 700 m high, in a fairytale setting, where the distillery is surrounded by gardens where some of the 47 berries or flowers with which the distillate is perfumed grow.
Owner Alexander Stein, as a manager of Nokia, has moved on to distill gin with the same care, passion and determination, using botanics at sublime, unparalleled levels.
How it is produced.
It starts with the cranberry, which is macerated in molasses alcohol (like rum) for a couple of weeks. It then continues with the addition of very thin fresh lemon and orange peel completely free of chemical elements, followed by juniper, ground and from Croatia. Then all the other aromas are added (including the 6 different types of pepper). After maceration, the distillation is carried out in a discontinuous alembic first, then in a column still.
The range of perfumes is perfected with 2 copper containers enriched with other botanicals, in which the aromas are extracted from the steam. the distillate thus obtained rests for 3 months in ancient terracotta containers, to blend and harmonize the flavors through oxygenation. Finally, pure Black Forest spring water is added until it reaches 47 °.
Also the bottle (50 ml) of brown glass, rounded and typical of ancient herbalists, it is particular and elegant and is completed by a ring around the cork on which is written: "Unum ex pluribus" Among the many, only one that is rare and exclusive, exceptional.
How it looks
Il colore it is intense red, thanks to the presence of red berry fruit
Il perfume it is soft, warm, but at the same time fresh, intriguing and rare
Il taste it opens decisively, with notes of wild berries, enriched by black pepper and with traces of citrus and almond notes
Conclusion
It is a special, refined, elegant and aromatic gin. It is produced in small quantities with super selected ingredients. It turns out amazingly rich if drunk neat. If you want to add tonic water, it remains an unforgettable experience for taste and smell. Also widely used for Gin Fizz thanks to its purity and aromatic characteristics.
Gin Monkey 47 500ml - Price: 52,00 euro - Discount (6%) - Price: 48,80 euros (97,60 € / l)
Best Gin: the TOP of the TOP
1) GIN MARE MEDITERRANEAN GIN | 42,7 % vol. | 700 ml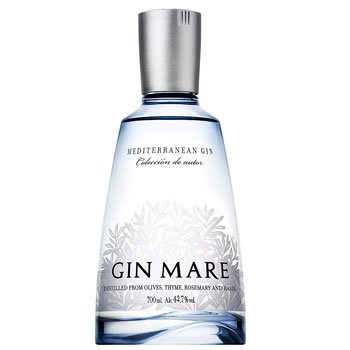 Gin Mare it is produced in a distillery Spanish which is located near Barcelona, ​​in Villanova, a small fishing village, by the Giro Ribot family, which has been operating in the alcohol sector since 1835. But in 1940 the first Spanish gin was produced, MG Gin, one of the best-selling gins in Spain.
Gin Mare has been produced since 2007 and is truly Mediterranean in spirit and taste.
The Premium barley base is infused with typical gin vegetables combined with Mediterranean specialties: Italian basil, rosemary from Turkey, Spanish oranges and their most precious part: Arbequina olive, the only olive in the world with a certificate of origin.
Think that Arbequina olives have such a low yield when pressed, that, to get a batch of gin, you need to use 15 kg of olives.
The citrus fruits that are added are macerated for a whole year before being used, while the other botanicals about 36 hours. All these botanicals are distilled individually in a 250 liter discontinuous Florentine still, only after the individual distillations have been carried out.
La bottle it has a particular design, with transparent reflections that tend to white and blue, reminiscent of the colors and the foam of the sea.
Conclusion
Gin Mare Mediterranean is clear and transparent. The perfume brings back to a Mediterranean environment, in which you can catch a slight smell of rosemary, olives and citrus fruits. In the mouth, the taste is initially fresh thanks to coriander and juniper, then slightly more bitter thanks to rosemary and basil, to complete the freshness with notes of orange.
Excellent Gin to taste with tonic water, with a basil leaf.
I would like to point out that this gin was the winner of the Best of 2015 Flaviar Community Award.
GIN MARE MEDITERRANEAN GIN | 42,7% vol. | 700 ml - Price: 39,90 euro - Discount (22%) - Price: € 31,00 (€ 44,29 / l)
Where is it tasted? Discover the Gin Glasses!
Gin glass: gift idea to start ...
Vemacity®, gin glasses for gin lovers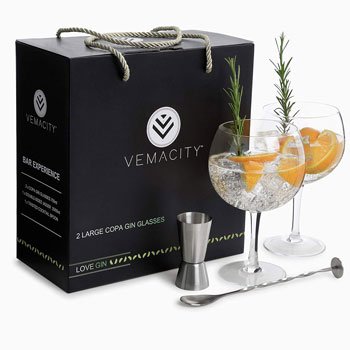 We liked these Gin Glasses for their 700 ml size, although I don't hide from you that we could consider them an "entry level" set.
Each gin and tonic glass can hold a lot of ice: the large "copa" glass (the name derives from the "ball cup"Has a diameter of 11 cm, which releases the intense botanical aroma of your favorite gin and is able to give an intense taste experience.
Il long stem it allows the hand to support the glass without melting the ice it contains.
The package, also perfect as a gift, is very nice and contains 2 glasses for gin and tonic, a double measuring cup (25/50 ml) and a twisted bar glass.
Vemacity®, gin glasses for gin lovers - Price: 30,22 euro - Discount (6%) - Price: 28,27 euros