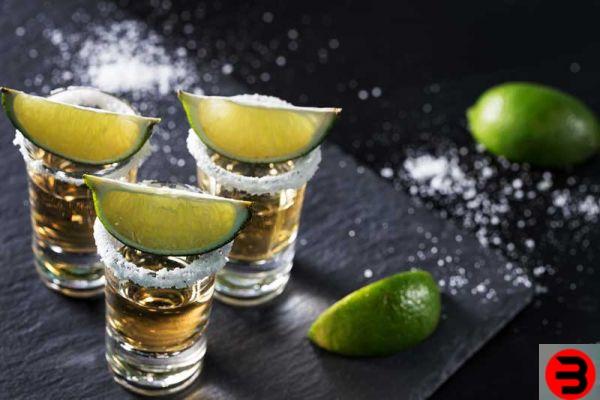 You're looking for the best Tequila? Lemon and Salt Tequila: the perfect traditional combination to forget problems and annoyances and spend an unforgettable moment with friends, even if someone disputes this way of taking Tequila. According to purists, when the product is excellent, salt and lemon cover the flavor!
Tequila is the soul of Mexico and, with Rum, it represents the spirit of the Caribbean and all of Central America. The first Spanish conquistadors had discovered that the agave fruit contained a sugary juice suitable for fermentation and distillation. And Tequila was the first distillate produced in North America. Tourism, the quality of the distillate, the nice ritual that characterizes its consumption and the ability to accompany the spicy foods of Mexican and Creole cuisine have spread its consumption all over the world. His journey was accompanied by the more rustic Mezcal, whose name derives from the indio term metz, which means Agave, produced in an area under Guadalajara.
The plant from which Tequila is obtained is theagave, whose most widespread variety is the maguey, which grows spontaneously in the rich volcanic soils of the high valleys around Guadalajara, in a hot and dry climate.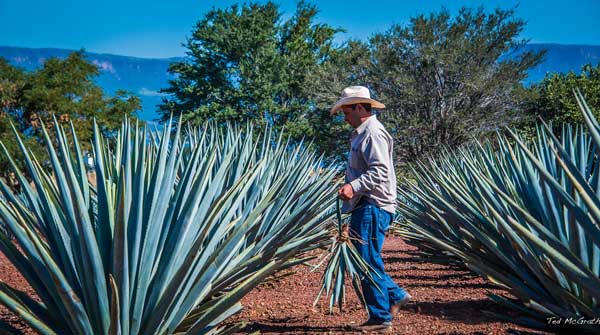 The best distillate is obtained fromAgave Tequilana Weber, the famous agave blu, or azul, currently cultivated in Mexico on an area of ​​about 100.000 ha, especially around Tequila, the city from which it took its name. At one time there were 90 distilleries operating around Tequila, while today they are less than 30: with the others, scattered throughout the country, over 55 million liters of tequila are produced annually. All the Tequila consumed in the world is practically produced in one radius of 150 kilometers from Guadalajara!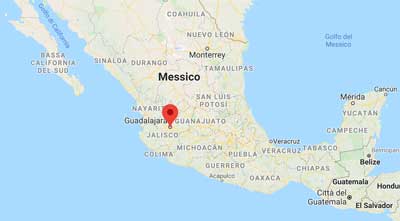 The blue agaves are cultivated with a density of 1500-2000 plants / ha, they reach maturity after 7-10 years, when they reach a height of about 1,8 m and they swell with sugary sap, necessary to produce the characteristic inflorescence, high up to 4-5 meters.
Just before the inflorescence appears, i jimadores they cut the long pointed leaves with sharp machetes, freeing the central part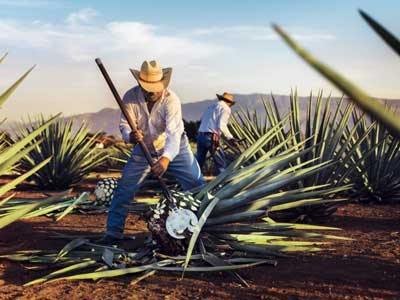 of the agave, similar to a large pine cone.
The hearts were once collected, half opened and stacked in large stone or brick ovens, where they were steamed for about 24 hours: today the process usually takes place in an autoclave. The hard and fibrous mass softens, takes on a caramelized color and a taste reminiscent of honey, thanks to the splitting of complex sugars into simple fermentable ones. The hearts are mechanically ground and squeezed, while a large volcanic stone wheel was once used, driven by a mule or a horse.
In this way a sugary juice is obtained, l'aguamiel, to which water is added and everything is fermented in large tanks, with natural yeasts present on the agave: some species of agave have up to 40 different types!
This aguamiel or fresh fermented honey water gives the Pulque, the typical national alcoholic drink, comparable to wine.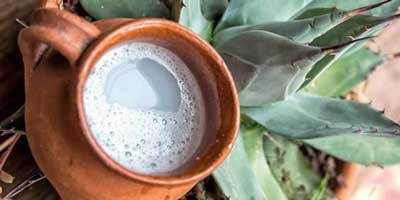 Tequila probably derives from Pulque, which the Maya used mainly as medicine or in ritual ceremonies, even if a product similar to the current Tequila was produced in Central American countries as early as the early 1700s.
After 5-6 days the fermented is filtered and then distilled with column or artisanal copper apparatus, discontinuous. The Tequila obtained has 70% -72% ethyl alcohol, then reduced with distilled water up to the commercial grade of 38% -42%. The perfectly clear and transparent Tequila that drips from the still is called Plata (silver) or Blanca or Fino and, in most cases, after the reduction in grade, it goes directly to bottling, possibly after a few weeks' rest.
Sometimes natural dyes or herbal infusions are added to Tequila or left to mature for a few months to improve its quality. This is what some indications on the label refer to, such as Suave, Joven, Gold, Abocado.
When Tequila rests in French oak or white oak wood, for a period of between 3-12 months, the term is used Tequila Reposado.
Old o Fine Tequila Espuela indicates a distillate aged for at least one year, softer and more elegant, and Muy Anejo for more than 5-6 years, an infrequent situation because Tequila ages rapidly.
Furthermore, some aficionados find these meditation Tequilas to be too refined and have lost their true character.
A curiosity is given instead by a Tequila put on the market with a large gruco, the larval form of a parasite of theopen azul, not much loved by most foreigners.
The best tradition has it that young Tequila is eaten fresh, in typical cylindrical terracotta glasses, with a pinch of salt placed on the back of the hand, in the hollow between the index and thumb, and a few drops of lime, small green lemons. with a characteristic flavor that dampens the strong and slightly herbaceous taste of the young Tequila.
When you taste the Aged Tequila, the temperature should be 18-20 ° C, to better appreciate its aromas. And also in this case, as for aged Rum, it can be accompanied by dehydrated tropical fruit, dried apricots and raisins, or with a saucer with cinnamon powder, brown cane sugar e bitter cocoa.
Finally, the neutral character of Tequila makes it ideal for many cocktails and long drinks, because it enhances the taste and aroma of many fruits.
The comparative price table
If you are short on time or want to compare prices and photos of the best Tequila at a glance, I recommend that you take a look at this section. In a moment you can see the best Tequilas and compare prices. They are all good, make your choice!
Best Tequila ranking
Best Tequila: Ideal for cocktails
5. Jose Cuervo Especial Gold Tequila 700 ml

Jose Cuervo it is one of the oldest brands on the Tequila market: in 1795, in fact, Josè Cuervo, a Mexican businessman, was the first to receive permission from the Mexican authorities to produce Tequila. Today Gold is one of the best-selling brands in the world.
In more than 250 years, with more than 10 generations of the same family following one another at work, the brand has remained unchanged in substance and in the pursuit of quality.
The packaging has been renewed over time: the bottles have become more stylized, modern, elegant, with straighter corners at the top and bottom, gaining in freshness and aesthetics.
Under the neck, the date 1795 appears engraved in the glass, to strengthen the relationship between consumers and history and to commemorate the development of the distillate at an international level. The label also celebrates the roots of the family, which has always produced its own distillate in the magnificent city of Tequila, in Jalisco, Mexico.
Josè Cuervo Especial Gold is offered in a 700 ml bottle, with an alcohol content of 38% and is obtained from an exquisite mix between Reposado and other younger brands.
Its color is characteristic: golden yellow, due to the addition of caramel and the fact that it comes in part aged in oak.
Il flavor it is sweet and spicy, with notes of agave, wood and orange peel; her softness in the mouth it recalls oak and vanilla and make it absolutely irresistible, with a special mix of ancient and modern.
Ideal to be drunk alone, however, it is known all over the world for being an essential compound in the composition of Daisy flower, the most consumed tequila-based cocktail in the world.
Josè Cuervo Especial Gold is a mixed type tequila, which combines sugars in fermentation: on the one hand this technique makes it more accessible to the average consumer, on the other hand it alters the taste for the more experienced and demanding.
However, it is a distillate rich in tradition and quality, with an excellent quality / price ratio.
Jose Cuervo Especial Gold Tequila 700 ml - Price: EUR 15,90 - (Discount: 16%) - Price: EUR 13,26
Best Tequila: perfect, not aged
4. Espolòn Tequila Blanco 1 Agave - 700 ml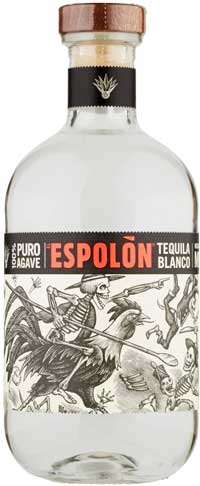 Tequila White Spur it is made with 100% blue agave, which is bottled immediately after distillation, following the artisanal method, with an alcohol content of 40%
The Espolon brand comes from the Highlands of Jalisco, Mexico, the indisputable homeland of the best tequila in the world, with an agave cooking of about 20 hours, 6 hours longer than the average, as well as the slower the distillation process, for obtain a sweet and pure distillate, full-bodied and relatively soft, easy to drink.
It is offered in special bottles, from 750 ml, with labels inspired by Mexican history: pakaging is captivating as it features 19th century engravings, featuring Ramon, the rooster, symbol of national pride, and two skeletal figures, legendary heroines of Mexico's struggle for independence .
Espolon Blanco is a blanco with notes of cayenne pepper and earth, but with a smooth and silky body, more complex than what you would expect at this price level. In fact it is light, fruity, with pleasant flavors and a very clean and quick finish.
In 2009 the group Campari bought both the Espolon brand and the San Nicolas distillery, where tequila is produced, opening up to an ever-expanding market.
Espolon is an excellent distillate which replaces the initial peppery character with a floral body with hints of vanilla and a certain earthy influence. It is very popular with the public, so much so that Espolon has won 2 gold medals and the Beverage Testing Institute has classified it as Premium quality.
Espolòn Tequila Blanco 1 Agave - 700 ml - Price: EUR 38,00 - (Discount: 32%) - Price: EUR 25,80
Best Tequila: Beautiful gift box
3. Aged Tequila Añejo Kah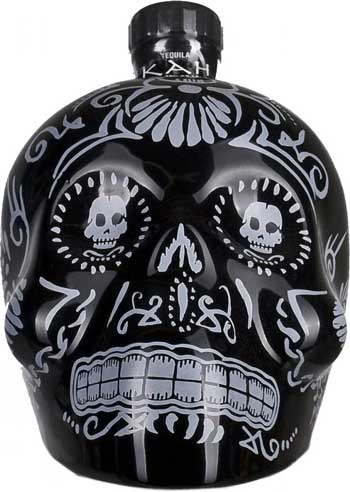 This Tequila Añejo produced by KAH is presented as a distillate with very intense and concentrated aromas, in which the aromatic protagonist is agave.
This is a pack of 0,70 liters with an alcohol content of 40%
Agave emerges as the protagonist of the olfactory profile. This, as we have said, is the raw material from which Tequila is obtained, and is carefully chosen by the KAH staff, selecting only the best plants.
At the end of the artisanal distillation process, the Tequila is left to rest for 2 years in American oak barrels, to increase the body and expressiveness on the palate
Kah tequila calls your attention to the bottle interesting, with a black and white color, in the shape of a skull, a design that also runs inside the eyes, which always has an effect, especially if you want to make a gift. It is a real individual work of art because it is handmade, each one different from the others.
Designed to honor Mexico and its culture, this figure, according to the Maya, ancient inhabitants of these lands, reflects the "day of the dead" with the intent of honoring the dead and celebrating the transition between life, death and rebirth. according to an ancient tradition.
Beyond the truly original packaging, I must tell you, however, that this product is also excellent for the quality of the aromas and flavors.
The nose abounds with sweet candies, vanilla and a hint of well-toasted agave. The taste senses a taste of fragrant tobacco, chocolate and caramel, for a rich and creamy flavor. After all, you are left with a long, clean and balanced flavor.
The Amazon price of this product is really great: at certain times of the year it is particularly discounted.
Aged Tequila Añejo Kah - Price: EUR 70,00- (Discount: 30%) - Price: EUR 48,50
Best Tequila: ripe straw yellow
2. Don Julio Tequila Reposado - 700 ml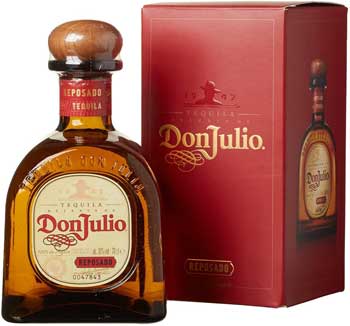 It is said that those who surpass themselves can reach the pinnacle of success and the Tequila di don Julio proof of this: for many experts it is number 1 for its splendid flavor and excellent quality.
Its creator, Julio Gonzalez Estrada, chose to favor quality over quantity and for this he created the first luxury tequila on the planet. At the age of 15 he lost his father but was not discouraged and at 17 he began the journey to become a tequila producer. To create a good product, he planted agave, giving each plant its own space by selecting the best fruits to produce a rich and smooth tequila.
The Don Julio distillery, called the Primavera, uses agave grown in Atotonico El Alto, Jalisco, Mexico, chosen for its excellent climate and its red soil, very rich in minerals such as copper and iron, (ideal for optimal growth) which release a floral, sweet and fruity flavor to the plant.
At first the bottles were tall, but creativity led Don Julio to create a shorter one, to allow people sitting around the same table to be able to see each other comfortably in the face.
Eat if he produces the Don Julio tequila
Jimadores are experts in hand harvesting agave, which they cut into 3 or 4 parts. The hearts are taken to traditional masonry ovens to cook for 72 hours: in this time they release the sweet agave juice slowly, without haste.
It should be noted that one bottle of tequila is made with 8 Kg of agave. Immediately after cooking, the agaves are crushed and watered with water, to release their juice and offer a better flavor. Yeast is then added and left to ferment until the result is placed in stills for distillation.
Aged for 8 months in American white oak barrels, Don Julio Reposado is golden amber in color and offers a rich smooth finish, the very essence of perfect barrel aged tequila.
The Tequila Don Julio Reposado is offered in a 700 ml bottle and is produced with agave to 100%.
The law provides for a minimum of 6 months to benefit from the Reposado label, but Don Julio lets his tequila age in American barrels for 8 months.
It exudes quality from the first to the last sip, a complex and well-structured mix of spices, citrus and sweetness of agave. It is truly an excellent distillate.
Don Julio Reposado Tequila - 700 ml - Price: EUR 47,40 - (Discount: 14%) - Price: EUR 40,90
Best Tequila: Ultra Premium
1. Blue Class Blue Class Reposado Tequila - 700 ml

Clase Azul Reposado Tequila is an Ultra Premium Tequila, made with Tequilana Weber Blue Agave, organic, to offer an incredible product, so interesting that you will not forget easily.
It is made with a slow production process, cooked in traditional stone ovens for one minimum of 72 hours.
Once the agave reaches a deep and rich flavor, it is fermented with patented yeast before distillation, owned by the brand.
Once the tequila is distilled, it matures for 8 months in small oak barrels on the second use, to provide a more developed and intense aromatic profile.
The distillate is then microfiltered three times, to ensure maximum purity.
Reposado is a tequila that presents itself to the nose with subtle notes of jasmine, honey and cinnamon. On the palate you feel wet earth and vanilla, to give the palate a rustic but refined flavor. Notes of tobacco, chamomile, anise and carnation flowers intertwine in a special and unforgettable bouquet.
The main characteristics are offered by the sweet and creamy flavor, with a soft and fine taste, without sour notes.
I think this is one of the best tequilas I've tasted. It is no coincidence that the incredible Clase Azul Reposado Tequila was awarded a gold medal at the Beverage Testing Institute and the San Francisco World Spirits Competition.
Particular attention should be paid to bottle, from collection, consisting of a hand-painted white ceramic decanter numbered by local artisans: it is so special that, perhaps, it exceeds the value of the distillate itself in quality!
Blue Class Blue Class Reposado Tequila - 700 ml - Price: EUR 160,00 - (Discount: 10%) - Price: EUR 143,41